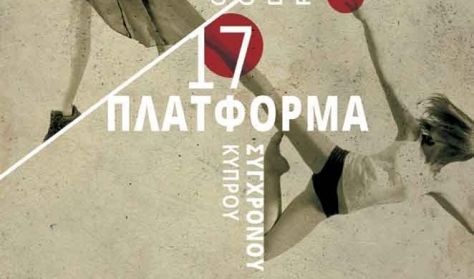 11
17th Contemporary Dance Platform
17th Cyprus Contemporary Dance Platform - 3,4 & 5 of March
more
Nincs aktuális előadás
Ön egy múltbeli eseményre keresett rá. Kérjük, válogasson aktuális kínálatunkból a Jegy.hu keresőjében!
Last event date: Sunday, March 05 2017 8:30PM
10 dance projects by established and upcoming choreographers are presented within the framework of the 17th Cyprus Contemporary Dance Platform, organized by the Cultural Services of the Ministry of Education and Culture and the Rialto Theatre.
This year offered, according to the call of submissions, the opportunity to oldest productions presented at Terpsichore and Culture Programs, even in previous editions of the Platform to participate. In this framework will present their works Alexandros Michael, Machi Dimitriadou – Asomates Dynameis, Elena Antoniou and Milena Ugren Koulas. Along with these 4 performances, another 6 new proposals by established and younger choreographers, selected by the Selection Committee, complete the 10 performances will be presented at this year's celebration of Dance.
During the three-day long festival of contemporary dance, a large number of choreographers, dancers, musicians and other artists will join their strong artistic forces in order to present the best artistic effect. Away from strict forms, they highlight the expressive dance in various ways and modern forms, the creators through their work show the evolution and the level of the contemporary dance in Cyprus.
Representatives and personalities from international festivals and the international dance community are invited by the organizers (Cultural Services of the Ministry of Education and Culture and Rialto Theatre) to attend this years' three-day event of contemporary dance and discuss with the artists and the public. Particularly noticeable this year is the presence of personalities from Greece. Specifically attending: Katerina Kasioumi – Artistic Director of Kalamata Dance Festival, Chistina Liata from the Michael Cacoyannis Foundation  (Athens), Vaggelis Theodoropoulos - Artistic Director of the Athens and Epidaurus Festival, Christiana Galanopoulou – Artistic Director of MIR Festival (Athens)  and Sofia Falierou from the Dance Days Festival of Chania (Crete). Rosa Stehle from Tanzhaus Züric will also attend, invited by Dance House Lemesos. 
PERFORMANCES @ RIALTO THEATRE
3.3 FRIDAY 
Suppliants  49' - ASOMATES DYNAMEIS, MACHI DIMITRIADOU 
Fugue 10' - MELISSA GARCIA CARRO & PASCAL CARON                        
ANNNA 20' - ALEXANDRA WAIERSTALL 
4.3 SATURDAY  
The Elephant 40' – MILENA UGREN KOULAS 
The Mess I'm In 17' - ALEXANDER MICHAEL
Word March 20' - .pelma.Lia Haraki 
5.3 SUNDAY
i open my palm.i called a space. 42' - ELENA ANTONIOU 
Never Been Missed 10' - PANAYIOTIS TOFI
10' 10' - ELEANA ALEXANDROU  
She / LL 10' - SEVIM AKPINAR
Parallel events will complete the program of the Cyprus Contemporary Platform, organized once again by the Limassol Dance House, under the heading of "Dance Throughout the year", enriching the entire organization with choreographic projects presented in the past year. At the same time, continues this year the Blast Collective participation, the team which participated last year for the first time in the organization, proposing a different approach to how we see the historical development of contemporary dance in Cyprus
PARALLEL EVENTS: DANCE THROUGHOUT THE YEAR / BLAST FROM THE PAST
Friday 03/03/2017 @ Andrea Drousioti Street (in front of Rialto Theatre)
20:00 Into the stillness 25'Chorotheatro Omada Pende
Saturday 04/03/2017  
@ Heroe's Square Monument 
17:00 - 20:00 In a Dark Time , Arianna Economou 
Blast from the Past: A retrospective to the future, In the framework of the project Blast from the Past: A retrospective to the future. Curated by Blast collective. 
@ Dance House Lemesos
18:30 Sunday of Life 20'Julia Anna Brendle
19:00 Coralia 7', Panos Malactos
19:15 Red VelVet 25', Aneesha Michael
Sunday 05/03/2017
@ Dance House Lemesos
11:00-13:00 Round table discussion 
18:30 In Another's Shoes: #ifeeljustlikeachild 30΄Arianna Marcoulides
19:15 For George 15'Milena Ugren Koulas
22:30 Closing Party 
@ Heroe's Square Monument 
17:00 - 20:00 In a Dark Time, Arianna Economou 
Organisation: Cultural Services of the Ministry of Education and Culture and Rialto Theatre
In co-operation: Limassol Municipality & Dance House Lemesos
Media Sponsors: O Fileleftheros, The Cyprus Weekly, Megaone
Supported by: Inprima, Limassol Tourism Company, Heart Cyprus, Russian Wave, Vestnik Kipra, Efimerida Lemesos
Entrance fee €5 | Pass €10 E-ticket: www.rialto.com.cy
Free entrance for dancers & choreographers (Seat reservation is necessary) 
Click here for the website of Cyprus Contemporary Dance Platform
Motown and Soul music puts on a Carnival costume!
Omada Pende Ι Choreography: Roula Kleovoulou Ι On Stage
Women Walk Home | Project Season Women. In Greek
Warning! The basket time limit is about to expire!
estimated time left:
00:00
Time limit has expired. Please, put item(s) in to basket again.
---