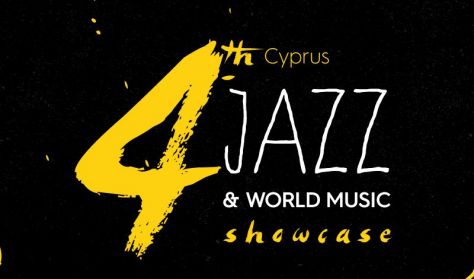 4th Cyprus Jazz & World Music Showcase
November 24 & 25

more
The Cultural Services of the Ministry of Education and Culture, the Cyprus Music Information Centre and the Rialto Theatre after three successful editions, they join again forces for the 4th consecutive year to organize the Cyprus Jazz & World Music Showcase on the 24th & 25th of November.
Starting tentative three years ago, the organizers sought to give the opportunity to Cypriot musician artists to present their original work to the public and also to guests from abroad, developing together partnerships that would strengthen them and offer them opportunities for international exposure and promotion. The large number of 16 groups that have expressed interest in participating in this year Showcase, has made it difficult for the competent committee to select the final groups, but it is also an indication of the resonance and establishment of the organization among the Cypriot musicians.
Noteworthy is the fact that the first Cyprus Jazz & World Music Showcase was dedicated to the memory of a significant creator of Jazz and World Music, Savvas Houvartas, whose work is a benchmark and inspiration for younger artists.
Objective of the 4th Platform is to create a lively atmosphere, full of jazz and World Music sounds presenting remarkable Cypriot groups, which represent all the trends of jazz and World Music. Eight groups have been selected to participate in this year's program and they will present a comprehensive and dynamic image of the Cypriot contemporary musical creation. The audio-visual recording of the showcase, as in previous years, contributes to the creation of a modern achieve which is an additional asset of promoting artists of Cyprus abroad.
Apart from the basic program, by presenting four Cypriot groups per day, parallel events are programmed include presentations, jam sessions and discussions with speakers from the international music industry. The main objective of these activities is to strengthen the awareness of the Cypriot musical creators to the structures and the international music industry operating mechanisms.
Foreign festival organizers, producers and representatives of organizations with which the Cyprus Music Information Centre cooperates will attend the showcase.
The participating bands in this fourth edition after the Committee's evaluation, which was set by the organizers are: 
Friday November 24th: Alexis Kasinos Quartet, Ioannou/ Vafeas Quartet, Loizos Pafitis "The Underdog", Macumba
Saturday November 25th: Free Over Four, Trio Tekke & Dave De Rose, Vasiliki Anastasiou - The Amalgamation Project, Mighty Sugarcane 
Friday 24/11 - 20:30
Alexis Kasinos Quarter: Alexis Kasinos Quartet consists from young musicians who have as a common target creativity, team work and the expression of their personal musical identity through the compositions of the band. The compositions are written from the leader of the band Alexis, and they are influenced from different genres of music combining eastern rhythms with jazz harmonies and lyrical melodies. The pieces of the band have been recently recorded in the Netherlands as a part of Alexis Kasinos album called "Right Place, Right Time". Presentation of new compositions which are written from the leader of the band Alexis Kasinos, and they are influenced from different music styles such as Jazz, Pop and World Music. The collaboration of the band members aims to the expression of the personal music identity through the original compositions and to show the importance of the team work which is an essential tool for a band to develop a story together.
Alexis Kasinos - Guitar
Antreas Panteli - Piano
Cahit Kutrafali - Electric Bass
Stelios Xydias - Drums
Ioannou / Vafeas Quartet: Ioannou/Vafeas Jazz Group was created in 2016 after many years of collaboration and friendship between Charis Ioannou and Ioannis Vafeas. Both band leaders perform regularly in Major Jazz Festivals and Concert Halls and in prestigious Jazz Clubs in Cyprus and all over Europe. They have numerous collaborations in cd's, recordings and theatre productions, with symphonic Orchestras and profound artists of the international jazz scene. They are both graduates of the Berklee College of Music in Boston MA and they hold a Master's Degree in Jazz Music. They are also members of the faculty in the Department of Music in the University of Nicosia since 2009. The album BRIDGE OF LOCKS was released in April 2017 by the IOANNOU/VAFEAS QUARTET. All seven compositions of the album are based on the rhythms of Straight Ahead Jazz. The first five are compositions of the American composer Chris Byars, the sixth is a composition of Charis Ioannou and the last one is a famous Jazz Standard. Bridge of Locks will be performed on the 14th of October 2017 Axiothea Cultural Centre in Nicosia.
Ioannis Vafeas - drums
Charis Ioannou - saxophone
Dimitris Miaris - piano
Greg Makamian - double bass
Loizos Pafitis The Underdog: The Loizos Pafitis trio (Lp3) is a Jazz trio from Nicosia. The trio has performed around Cyprus including major festivals such as ΑγλαJazzFestival, Fegaros Festival and Nicosia Festival. Their influences cover a broad span of music genres that is evident in their original compositions. Their debut album "The Undergod" is soon to be released October 17. The album has eight original compositions and features special guests on 4 tracks. Nikolas Melis on piano,rhodes and moog, Ilias Ioannou on trumpet and Eleonora Rousou on flute. For a better presentation of the album compositions the trio has grown up to a quintet adding piano and flute and under the name Loizos Pafitis 'The Underdog'. The quintet will present original compositions from the soon to be released album "The underdog". 
Loizos Pafitis guitar
Marios Menelaou: bass
Andreas Theodorou: drums
Nicolas Melis: piano
Eleonora Rousou: flute
Macumba: A collaboration of Chilean bassist Rodrigo Cáceres with Rodos Panagiotou, Giorgos Morfitis & Elias Ioannou, brings a new 'air' to the Jazz & Latin music scene of the island. a different approach to Latin rythms, Afro- Cuban & Brazilian mostly, blended through a modern post- jazz aesthetic. The band presents Macumba quartet is formed soon after the arrival of Rodrigo Cáceres in Cyprus. The four of them will work together, creating their own dynamic & innovative sound. After warm reception by live audiences in concerts & Festivals of Cyprus, the band presents original compositions of the four musicians. A live performance full of groove & intense stage presence, will transport the audience into different corners of the world. 
Giorgos Morfitis: piano
Εlias Ioannou: trumpet
Rodrigo Cáceres: bass
Rodos Panagiotou: drums & percussion
Saturday 25/11 - 20:30
Free Over Four: The quartet is a collaboration of Cypriot artists Ermis Michail, Andreas Panteli Cahit Kutrafali and Giannis Vafeas Based on the jazz tradition and with a forward looking eye, the group will make it's debut presenting their first work in progress. The group's work in progress has the subject "Evolution", and their attempt is to explore this through a blending of genres, competing motifs, and moving between collective and solo improvisation using the most dominant emerging idea. 
Ermis Michail: guitar - compositions
Andreas Panteli - compositions
Cahit Kutrafali: bass
Ioannis Vafeas: drums
Trio Tekke & Dave De Rose: With two acclaimed albums under their belt, Trio Tekke have continued to forge their own take on Rebetiko. From their early days of re-arranging traditional songs on 'Ta Reggetika' (2009) (a word that came to be a definition to a new Rebetiko sound over the last few years), through to the sonic explorations and original compositions of 'Samas' (2011) - an album that gained them a nomination for 'Best Newcomer' in 2012 Songlines Music Awards - Trio Tekke has been a vehicle of musical journeying for long time colleagues Antonis Antoniou, Lefteris Moumtzis and Colin Somervell. 2015 brought them together with drummer Dave De Rose (Moloko, Rokia Traore, Mark Ronson, Mulatu Astatke), giving a new direction and depth to their sound. Louder, punchier and guaranteed to keep you on your feet, they have raised the roof in their first few outings as a quartet. From their performances at Jazz a Vienne in France and Fengaros Festival in Cyprus, came a desire to write and record a new set of songs, featured on their latest release, Zivo. After a long break, the acclaimed Neo-Rebetiko group Trio Tekke makes a comeback with a strong new release. 'Zivo'* is the title of the band's third album, which initiates their collaboration with London-based Anglo-Italian drummer Dave De Rose. This album marks a departure from the purely acoustic sound of their previous two records and it's their first to consist of exclusively original compositions. The band's sound is enhanced by electric guitar, electric bass, effected tzouras, drums, percussion and some electronics, creating a genre-hopping cocktail of Greek Rebetiko-style tunes infused with Afrobeat, Cumbia, Acid Rock, Psychedelia and Jazz. The 13 tracks of the album produce a fresh sonic, stylistic and aesthetic outcome, which strengthens the band's performance dynamic and makes it approachable for even more diverse audiences. 'Zivo' was recorded in London in February 2017 at Soundspecies studio, while three of the tracks on the album were recorded at an earlier stage in Lyon at Mikrokosm studio. Ιt was produced by Trio Tekke and Dave De Rose, mixed by Andreas Trachonitis at studio eleven63 in Nicosia, Cyprus and mastered by Yiannis Christodoulatos at Sweetspot in Athens, Greece. It is distributed by Xango in the Benelux countries and by Proper in the rest of the world. The cover was conceived and created by conceptual photographer Orestis Kalvaris. Τhe album has already gathered amazing reviews from the international music media.
Antonis Antoniou: tzouras and vocals
Lefteris Moumtzis: guitar and vocals
Colin Somervell: bass
Dave De Rose: drums
The Amalgamation Project / Vassiliki Anastasiou: The Amalgamation project mixes traditional and folk sound with jazz harmonies. It has recently toured Germany and France where it presented the new album. The group has performed at the Paphos17 opening ceremony and as an opening act to Goran Bregovic. The project has also performed in the past at Cyprus Rialto World Music Festival, Axiotheas, Aglajazz, Paradise, Windcraft, the first Cyprus Jazz & World Music Showcase, Trakasol. They were also featured on live British radio (soas radio – a world in London and Croydon radio) also performed at the Green Note. Their first album has been release in July 2017 and includes original songs and arrangements of traditional music from the Mediterranean Sea area. The first Amalgamation project album is an amalgam of music from the shores of the Mediterranean Sea and the Balkans fused with modern musical elements.
Vasiliki Anastasiou: voice
Ermis Michail: guitar, arrangements
Alkis Agathokleous: ney
Rodos Panagiotou: percussion
Andreas Rodosthenous: double bass
Christina Metaxa: vocals
Myrto Aristidou: vocals 
Mighty Sugarcane: MIGHTY SUGARCANE is an electronic jazz-funk group playing original music with the use of electronic samples, synthesizers and hard grooves. Their catchy compositions and sets have quickly helped them stand out, with each member playing his distinct role in the shape of their sound. Whether characterized by slick lead sounds, virtuosic bass lines or hard hitting drum beats the group combines the influences of jazz giants with the sounds of electronic pioneers. Mighty Sugarcane will be playing a mix of their latest original compositions. The trio will focus on the unique combination of their electronic/funk sounds and will energize their set with their samples, catchy riffs whilst adding vocoders, deep bass lines and fiery grooves. 
Marios Takoushis - Keyboards & Vocoder 
Stelios Xydias - Drums 
Cahit Kutrafali - Electric Bass

Side Events
21/11 Workshop: How to rise above the crowd: an introduction to music marketing and branding by Maaike van Steenis @Sarah's Jazz Club, Nicosia 18:30
21/11 Jam Session @Sarah's Jazz Club, Nicosia 20:30
23/11 Jam Session @Kafeney, Limassol 20:30
On Sunday November 26th, a panel discussion will be held at Rialto Theatre cafe, 10:30 entitled "Understanding the festival environment: Artistic and organizational challenges", by speakers Martyna Markowska (University of Helsinki - Faculty of Arts, Institute for Art Research, Department of Philosophy, History, Culture and Art Studies) and Alexandra Kaletsari (Artistic Consultant, Organizer / Event Manager, Core Organizer of International Jazz Day in Thessaloniki). The objective of this panel discussion is to inform artists, emerging managers and agents on the tools and processes that answer the question of how artists get booked at music festivals and dramatically improve their booking success rate.
Organizers: Ministry of Education and Culture, Cyprus Music Information Center and Rialto Theatre
Media Sponsors: ASTRA 92.8, RIK
Supported by: Eventpro, Limassol Tourism Board, Public.
Tickets: €10 / 6
Festival pass: € 15 / 10
Click here for the facebook page of Cyprus Jazz & World Music Showcase