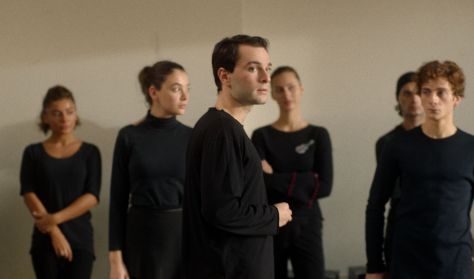 7
And Then We Danced
Summer Cinema
A social drama portraying the story of a young dancer who will risk his future in the National Georgian Dance Ensemble when he meets Irakli: the handsome and gifted dancer will awaken forbidden feelings in him and make him confront the conservative society of his country. Set against the graceful rhythms and dances of Georgia, the film premiered in the Directors' Fortnight of Cannes Film Festival and received multiple awards for its beautiful storytelling, as well as for the outstanding performances of its cast.

Directed by: Levan Akin
Cast: Levan Gelbakhiani, Ana Javakishvili, Bachi Valishvili et al.

Georgia, Sweden, 2019, 105'

Subtitles: Greek, English

Sponsors: Cyprus Republic, OPAP Cyprus, Deputy Ministry of Tourism, EventPro, SEK
Media Sponsors: City Free Press, CYBC, Kanali 6
Tickets: €8 open-air / €16 drive-in
---
General safety instructions for viewers 
Viewers must purchase their tickets in advance either online at www.rialto.com.cy or from Rialto's box office 77777745 (Monday to Friday, 10:00-13:00). 
On the evening of the screening, the box office in the Theatre foyer will remain open from 20:00 to 21:00 for settling any issues related to tickets.
There will be two different entrance and exit points for cars and viewers.
To avoid overcrowding, viewers are requested to arrive on time. The Theatre's personnel will be guiding the audience during their departure, to ensure their safe and smooth exit from the parking place.
There will be no break during the screening and no canteen will be operating. Viewers may bring their own water, drinks and snacks. 
For the correct implementation of all health and safety measures, viewers are requested to follow the instructions of the Theatre's personnel, who will be readily available.
Drive-in viewers:
For a controlled and smooth access of the audience, drive-in tickets may only be purchased up to 24 hours before the screening. Drivers may only be allowed to park their car by 20:45 the latest. 
The radio frequency will be provided to drivers upon their arrival, in order to transmit the sound of the film to their car radio.
Drivers are requested to turn off their car's engine during the film and may not depart before the end of the screening. 
In case of emergency, the driver must contact the Theatre's security staff who will arrange their departure from the parking place. 
Open-air cinema viewers:
No seat cushions will be provided. Viewers may bring their own cushions if they wish so