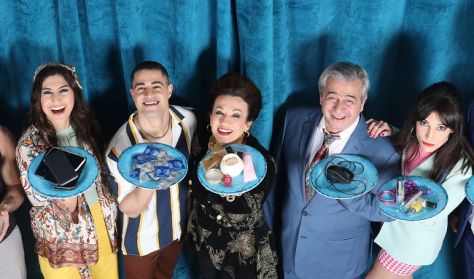 9
Απόψε τρώμε στης Ιοκάστης/Θέατρο Διόνυσος
DIONYSOS THEATRE
Nincs aktuális előadás
Ön egy múltbeli eseményre keresett rá. Kérjük, válogasson aktuális kínálatunkból a Jegy.hu keresőjében!
Last event date: Thursday, April 28 2022 8:30PM
Amidst a world of radical changes, Jocasta Papadamou is trapped in her urban flat, living in emotional agitation and naivety, trying to ignore anything that could possibly change her personal, supposed tranquility. The family gathering at her house turns into an evening of confessions as Jocasta and her guests make a series of personal revelations. A sweet cherry duck, a husband that suddenly becomes alive, a living woman considered dead, an "ex machina" immigrant "butler", a lover with political aspirations, a cook who wants to be a mother and a piano player who finds consolation in his keys all parade around this dinner.

Through the hilarious dialogues and the staggering rhythm of the performance, the characters reveal themselves, having no real connection with one another, not even caring for each other. A depthless and sad life focusing on glamour, conforms, on meaningless and painless things. A dinner where no one is eating since they are all having their heads in the clouds. What is family after all? What is our duty and relationship with the others? Who are we, really? Where are we located on the contemporary map of the world?

Written by: Akis Dimou
Directed by: Costas Silvestros
Set/Costume: Thelma Kasoulidou
Lighting design: Yiorgos Lazoglou
Composer: Antria Maria Kounna
Cast in order of appearance: Manolis Michaelides, Erica Beyeti, Andreas Koutsoftas, Polyxeni Savva, Christos Yiangou, Angelos Hadjimichael, Marianna Santi.

In Greek

Duration: 110'

Tickets: €15 / 12
Cyprus Symphony Orchestra
Cyprus Symphony Orchestra
Women Walk Home | Project Season Women. In Greek
Warning! The basket time limit is about to expire!
estimated time left:
00:00
Time limit has expired. Please, put item(s) in to basket again.
---