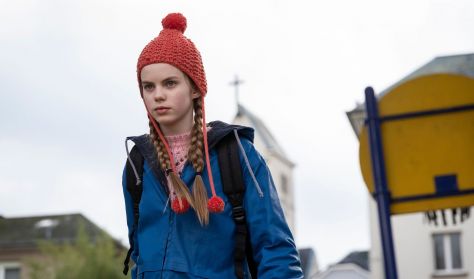 CFD Youth|Mission Ulja Funk
For Children and Youth / (G)
Nincs aktuális előadás
Ön egy múltbeli eseményre keresett rá. Kérjük, válogasson aktuális kínálatunkból a Jegy.hu keresőjében!
Last event date: Sunday, April 23 2023 4:00PM
Synopsis
Growing up in a village in Germany, twelve-year-old Ulja, is a smart (and slightly odd) girl, who loves science. When she discovers an asteroid on its way to earth and determines its point of impact, her Grandma Olga bans all science from Ulja's life. Since Ulja can no longer follow the asteroid from afar, she hires Henk, a boy from her class, to drive her. Together, they embark on a trip across Eastern Europe to witness the greatest cosmic event of their lives.

Biography
Barbara Kronenberg began her career as a software developer. After graduating with a BA in media production, she studied screenwriting and directing in Cologne. Her graduation film Die Ballade von Ella Plummhoff screened at various international festivals, won a number of prizes and was nominated for the First Steps Award. She is an alumna of the 'Akademie für Kindermedien' and of 'Serial Eyes', a European training programme for television writers and producers. Mission Ulja Funk is her debut feature film.

93', 2021 | Germany, Luxembourg, Poland

Directed by Barbara Kronenberg
Screenplay Barbara Kronenberg
Cinematography Konstantin Kröning
Editing Rune Schweitzer, Paul Maas
Production design Christina Schaffer
Costume design Nicole Hutmacher
Music André Dziezuk
Sound design Krzysztof Owczarek
Cast Romy Lou Janinhoff, Jonas Oeßel, Hildegard Schroedter, Luc Feit
Producers Roshanak Behest Nedjad, Bernard Michaux, Joanna Szymańska
Production companies In Good Company, Samsa Film, ShipsBoy
Co-production companies Mitteldeutscher Rundfunk
World sales Picture Tree International

Filmography
2021 Mission Ulja Funk

Selected Awards
Best Children's Film, Kristiansand International Children's Film Festival, Norway, 2021.
Best Children's Film, Gild-Filmpreis – German Film Award, Germany, 2021.
Best Children's Film, Filmkunstmesse Leipzig, Germany, 2021.

Free Entrance
Warning! The basket time limit is about to expire!
estimated time left:
00:00
Time limit has expired. Please, put item(s) in to basket again.
---