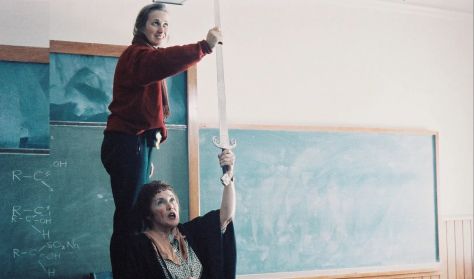 Cyprus Film Days 2023|Jane Campion
Special Screenings
Nincs aktuális előadás
Ön egy múltbeli eseményre keresett rá. Kérjük, válogasson aktuális kínálatunkból a Jegy.hu keresőjében!
Last event date: Saturday, April 22 2023 11:00AM
Synopsis
A pioneer among filmmakers, Jane Campion remains the first woman to have won the Palme d'Or at Cannes, for The Piano. In forty years of work, she has carved out a unique place for herself in the very masculine pantheon of cinema. A visual and iconoclastic director, a subtle portraitist of the human soul and women, Jane Campion is also a furtive filmmaker, at once discreet and whimsical, gentle and impertinent, and at times misunderstood. For the first time, filmmaker Julie Bertuccelli draws the portrait she deserves, in a film that is unapologetically subjective and offbeat, very much mirroring Jane's own trailblazing journey in cinema and life.

Biography
Following her studies in Philosophy, Julie Bertuccelli (1968) began her career, serving as assistant to Krzysztof Kieślowski, Otar Iosseliani, Bertrand Tavernier, Rithy Panh, Emmanuel Finkiel, Pierre Étaix, Christian de Chalonge, René Féret, Jean-Louis Bertuccelli and others, before embarking on documentary-making studies at Ateliers Varan in 1993. It was thereafter that she shot her first documentary Un métier comme un autre, followed by Une liberté ! (1994), La fabrique des juges (1997), Bienvenue au grand magasin (1999), Un monde en fusion (2006), Otar Iosseliani, le merle siffleur (2006, coll. Cinéma de notre temps), Le mystère Glasberg (2008) and A Portrait of Antoinette Fouque (coll. Empreintes). Her first full-length feature film Since Otar Left (2002), which was shot in Georgia, revealed her to the general public (some twenty awards won in France and abroad). The Tree, her second full-length feature film, was shot in Australia with Charlotte Gainsbourg; part of the official selection at Cannes Film Festival. Two more of her films came to French cinemas, School of Babel (2014) and Last news from Cosmos (2016), both nominated for Best Documentary at the César Awards. She then directed her third full-length feature film, Claire Darling with Catherine Deneuve and Chiara Mastroianni, and, finally, Jane Campion, The Cinema Woman, her last full-length documentary, in official selection (Cannes Classic) at Cannes Festival 2022. Julie Bertuccelli co-directs the Direction Department at the Cinéma School La Fémis and also heads the freshly-inaugurated La Cinémathèque du Documentaire, which she initiated when she presided LaScam, the French-speaking society of documentary authors, since June 2017, as the first woman elected to this position in 2013. She also created the 'Golden Eye', the Best Documentary Prize at Cannes Film Festival with LaScam.

100', 2022 | France

Directed by Julie Bertuccelli
Screenplay Julie Bertuccelli
Editing Laure Gardette, Svetlana Vaynblat
Music Olivier Goinard
Sound editing and mixing Olivier Goinard
Research Véronique Nowak
Producers Estelle Fialon
Associate Producers Yaël Fogiel, Laetitia Gonzalez
Co-production Les Films du Poisson, Arte France, Uccelli Production
International Sales Westend Films / Cinephil

Selected Filmography
2022 Jane Campion, The Cinema Woman (ντοκιμαντέρ / documentary)
2016 Last News from Cosmos (ντοκιμαντέρ / documentary)
2014 School of Babel (ντοκιμαντέρ / documentary) 2010 The Tree (μυθοπλασία / fiction)
2002 Since Otar Left (μυθοπλασία / fiction)
1999 Bienvenue au grand magasin (ντοκιμαντέρ / documentary)
1997 La Fabrique des juges (ντοκιμαντέρ / documentary)
1994 Une liberté! (μ.μ. / s.f.)

Awards and Distinctions
Nominated for The Golden Eye Award, Cannes Film Festival, France, 2022.
Nominated for Best Documentary Award, Santa Barbara International Film Festival, 2023.

Tickets: €5
WUTHERING HEIGHTS I Anemona Theatre
Warning! The basket time limit is about to expire!
estimated time left:
00:00
Time limit has expired. Please, put item(s) in to basket again.
---