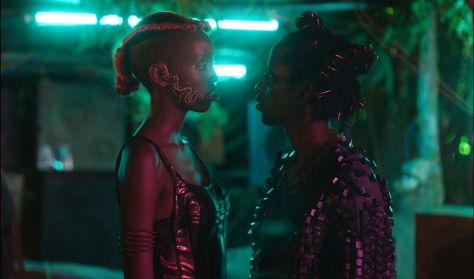 Cyprus Film Days 2023|Neptune Frost
Viewfinder / A Close-up of Contemporary World Cinema
Nincs aktuális előadás
Ön egy múltbeli eseményre keresett rá. Kérjük, válogasson aktuális kínálatunkból a Jegy.hu keresőjében!
Last event date: Thursday, April 27 2023 8:00PM
Synopsis
Ιn the hilltops of Burundi, a group of escaped coltan miners form an anti-colonialist computer hacker collective. From their camp in an otherworldly e-waste dump, they attempt a takeover of the authoritarian regime exploiting the region's natural resources – and its people. When an intersex runaway and an escaped coltan miner find each other through cosmic forces, their connection sparks glitches within the greater divine circuitry. Set between states of being – past and present, dream and waking life, colonized and free, male and female, memory and prescience – Neptune Frost is an invigorating and empowering direct download to the cerebral cortex and a call to reclaim technology for progressive political ends.

Biography
Saul Williams is an American poet, musician, and actor. He made his acting debut in Marc Levin's Slam, which he co-wrote. The film won Sundance's Grand Jury Prize and the Cannes Camera D'Or in 1998. Saul was a series regular on Girlfriends and has appeared in films including: K-Pax, Lackawanna Blues, New York, I Love You, Akilla's Escape (TIFF 2020) and Aujourd'hui-TEY (Alain Gomis), which won L'Etalon D'Or (2013) at FESPACO. Saul was the first African-American to win Best Actor at the festival. In 2014, Saul made his Broadway debut as the lead in Holler If Ya Hear Me, based on the lyrics of Tupac Shakur. Saul has published five books of poetry, which have been translated into several languages. As a musician, he has released six albums and toured and collaborated with artists including: Kanye West, Nas, Janelle Monae, Nine Inch Nails, Rage Against The Machine, The Roots, Mos Def, Allen Ginsburg, Amiri Baraka, Gil Scott-Heron, TV On The Radio, Blackalicious, and Erykah Badu.

Anisia Uzeyman is an actress, playwright and director. Born in Rwanda, she studied drama at the Superior School of Theatre in France. Her directorial debut Dreamstates was shot entirely on iPhones and starred Saul Williams, William Nadylam and Beau Sia. The film premiered at LAFF in 2016. She has also directed numerous music videos. As an actress, Anisia has starred in the award-winning film Aujourd'hui-TEY where she met Saul Williams, and the feature film Ayiti Mon Amour by Guetty Felin, which premiered at TIFF 2017. Her first book, a poetic treatment of her original screenplay Saolomea, Saolomea will be published by Not a Cult this Fall.

105', 2021 |Rwanda, USA

Directed by Saul Williams, Anisia Uzeyman
Screenplay Saul Williams
Cinematography Anisia Uzeyman
Editing Anisha Acharya
Costume design Cedric Mizero
Music Saul Williams
Cast Cheryl Isheja, Bertrand Ninteretse 'Kaya Free', Eliane Umuhire, Dorcy Rugamba, Rebecca Mucyo, Trésor Niyongabo, Eric Ngangare '1Key', Natacha Muziramakenga, Elvis Ngabo 'Bobo', Cécile Kayirebwa
Producers Ezra Miller, Stephen Hendel, Saul Williams
Production companies Swan Films, Sopherim, Knitting Factory Entertainment, Spkn/Wrd, Jmk Films, Quiet
Co-production companies Redwire Pictures, Carte Blanche

Filmography
Saul Williams, Anisia Uzeyman
2021 Neptune Frost

Awards
Nominated for Golden Camera Award & Queer Palm, Cannes Film Festival, France, 2021.
Best Debut Feature, Boston Underground Film Festival, USA, 2022.
Bright Horizons Award, Melbourne International Film Festival, Australia, 2022.
Petit Agnès Prize, Namur International Festival of French-Speaking Film, Belgium, 2021.

Tickets: €5
General Director: Constantinos Yiannoudes
Warning! The basket time limit is about to expire!
estimated time left:
00:00
Time limit has expired. Please, put item(s) in to basket again.
---