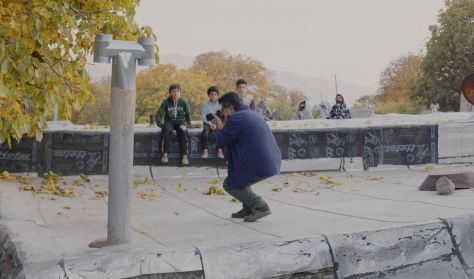 Cyprus Film Days 2023|No Bears
Viewfinder / A Close-up of Contemporary World Cinema
Nincs aktuális előadás
Ön egy múltbeli eseményre keresett rá. Kérjük, válogasson aktuális kínálatunkból a Jegy.hu keresőjében!
Last event date: Saturday, April 22 2023 10:00PM
Synopsis
Two parallel love stories. In both, the lovers are troubled by hidden, inevitable obstacles, the force of superstition and the mechanics of power.

Biography
Jafar Panahi (1960) is an Iranian film director, screenwriter, and film editor, commonly identified with the Iranian New Wave film movement. After several years of making short films and working as an assistant director for fellow Iranian film-maker Abbas Kiarostami, Panahi achieved international recognition with his feature film debut, The White Balloon (1995), premiering at Cannes Directors' Fortnight. Although his films were often banned in his own country, he continued to receive international acclaim from film theorists and critics and won numerous awards, including the Golden Leopard at the Locarno International Film Festival for The Mirror (1997), the Golden Lion at the Venice Film Festival for The Circle (2000), the Un Certain Regard award for Crimson Gold at Cannes (2003) and the Silver Bear at Berlin Film Festival for Offside (2006). After several years of conflict with the Iranian government over the content of his films (including several short-term arrests), Panahi was arrested in March 2010 along with his wife, daughter, and 15 friends and later charged with propaganda against the Iranian government. Despite support from filmmakers, film organizations, and human rights organizations from around the world, in December 2010 Panahi was sentenced to a six-year jail sentence and a 20-year ban on directing any movies, writing screenplays, giving any form of interview with Iranian or foreign media. While awaiting the result of an appeal he made This Is Not a Film (2011), a documentary feature in the form of a video diary in spite of the legal ramifications of his arrest. It was smuggled out of Iran in a flash drive hidden inside a cake and shown at the 2011 Cannes Film Festival. In February 2013, the 63rd Berlin International Film Festival showed Closed Curtain by Panahi and Kambuzia Partovi in Competition; Panahi and won the Silver Bear for Best Script. Taxi (2015) premiered in competition at the 65th Berlin International Film Festival in February 2015 and won Golden Bear, the prize awarded for the best film in the festival. His film 3 faces (2018) was awarded Best Screenplay in Cannes 2018.

107', 2022 | Iran

Directed by Jafar Panahi
Screenplay Jafar Panahi
Cinematography Amin Jafari
Editing Amir Etminan
Art direction Babak Jajaie Tabrizi
Visual effects Hamed Mousavi, Saadat Bastam
Costume design Leyla Siyahi, Hasibe Secil Kapar, Ulker Cetinkaya
Cast Jafar Panahi, Naser Hashemi, Vahid Mobaseri, Bakhtiar Panjei, Mina Kavani, Narjes Delaram, Reza Heydari
Producers Jafar Panahi
Co-producersJafar Panahi, Nader Saeivar, Sinan Yusufoglu
World sales Celluloid Dreams

Selected Filmography
2022 No Bears / Khers Nist
2018 3 Faces
2015 Taxi Tehran
2013 Closed Curtain / Pardé
2011 This is not a Film / In Film Nist
2006 Offside
2003 Crimson Gold
2000 The Circle
1997 The Mirror / Ayneh

Awards
Special Jury Prize, Venice Film Festival, Italy, 2022.
Award for Cinematic Bravery, Chicago International Film Festival, USA, 2022.
Silver Mirror Award for Best Feature, Oslo Films from the South Festival, Norway, 2022.
SNCCI Award for Best Film, Trieste Film Festival, Italy, 2023.

Tickets: €5
Silver Lining - Sandi Toksvig Ι Satiriko Theatre
WUTHERING HEIGHTS I Anemona Theatre
Satanerie – Theophrastos Sakellaridis Ι Epilogi Cultural Movement
Warning! The basket time limit is about to expire!
estimated time left:
00:00
Time limit has expired. Please, put item(s) in to basket again.
---