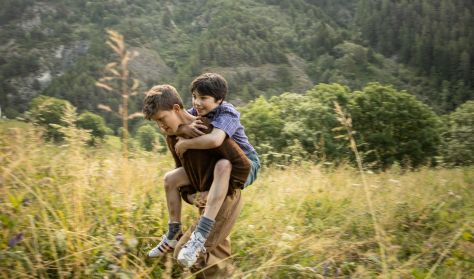 Cyprus Film Days 2023|The Eight Mountains
Viewfinder / A Close-up of Contemporary World Cinema
Nincs aktuális előadás
Ön egy múltbeli eseményre keresett rá. Kérjük, válogasson aktuális kínálatunkból a Jegy.hu keresőjében!
Last event date: Friday, April 28 2023 10:00PM
Synopsis
Pietro is a boy from the city, Bruno is the last child of a forgotten mountain village. Over the years Bruno remains faithful to his mountain, while Pietro is the one who comes and goes. While their destinies unfold, the two discover what it means to be true friends for life.

Biography
Felix Van Groeningen is a Belgian director and screenwriter. He studied at the Royal Academy of Fine Arts (KASK) and graduated in 2000 with a Master's degree (MA) in Audiovisual Arts. Among his works, The Misfortunates (2009) premiered at Cannes Film Festival's 'Directors' Fortnight', The Broken Circle Breakdown (2012) earned a César and a nomination for Best Foreign Language Film at the 86th Academy Awards, and Belgica (2016) won the World Cinema Directing Award at Sundance Film Festival. Beautiful Boy (2018) was his first English-language film. He co-directed The Eight Mountains with his partner Charlotte Vandermeersch. He lives and works in Belgium.

Charlotte Vandermeersch is a renowned Belgian actress and screenwriter with an extensive experience in European cinema, theatre, and TV. She was the leading actress in the thriller TV series Deadline 14/10 and Deadline 25/5, as well as in the comedy series Red Sonja. She has worked in many independent and award-winning films, such as Belgica, Turquaze, Loft, and The Prime Minister. In 2012, she co-wrote the script for The Broken Circle Breakdown with Felix Van Groeningen. Ιn 2006, she founded LAZARUS, a Dutch-language theatre collective, also based in Antwerp. She writes music and sings in a band called "Whale".

147', 2022 | Italy, Belgium, France

Directed by Felix Van Groeningen & Charlotte Vandermeersch
Screenplay based on Paolo Cognetti's novel
Cinematography Ruben Impens
Editing Nico Leunen
Production design Massimiliano Nocente
Costume design Francesca Maria Brunori
MusicDaniel Norgren
Sound design Alessandro Palmerini
Cast Luca Marinelli, Alessandro Borghi, Filippo Timi, Elena Lietti, Cristiano Sassella, Lupo Barbiero, Andrea Palma, Francesco Palombelli, Elisabetta Mazzullo
Producers Mario Gianani, Lorenzo Gangarossa
Co-production companies Wildside, Rufus/Menuetto, Pyramide Productions, Vision Distribution
Co-producers Hans Everaert, Felix Van Groeningen, Charlotte Vandemeersch, Stéphane Parthenay, Robin Boespflug-Vonier

Filmography
Felix Van Groeningen
2022 The Eight Mountains
2018 Beautiful Boy
2016 Belgica
2012 The Broken Circle Breakdown
2009 The Misfortunates
2007 With Friends Like These

Charlotte Vandermeersch
2022 The Eight Mountains

Awards
Jury Prize, Cannes Film Festival, France, 2022.
Best Editor, Dublin Film Critics Award, Dublin International Film Festival, Ireland, 2023.
Best Co-Production - ENSOR Award, Film Festival Oostende, Belgium, 2023.
Best Adapted Screenplay, ICS Award, International Cinephile Society Awards, 2023.
Best Cinematography & Blogos de Oro Awards, Valladolid International Film Festival, Spain, 2022.

Tickets: €5
Satanerie – Theophrastos Sakellaridis Ι Epilogi Cultural Movement
Don Quixote "We will change the world"!
Warning! The basket time limit is about to expire!
estimated time left:
00:00
Time limit has expired. Please, put item(s) in to basket again.
---