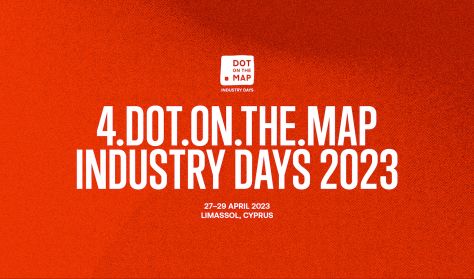 4
Dot.on.the.map Accreditation 2023
The 4th Dot.on.the.Map Industry Days announces that applications for accreditations are now being accepted.
more
45.00 €
Balcony, Box Left, Box Right, Orchestra
Join industry professionals from across Europe, the Middle East, and North Africa in the fourth edition of Dot.on.the.Map Industry Days, to take place in Limassol, Cyprus, 27 - 29 April 2023, within the framework of the 21st Cyprus Film Days International Festival. Ready to discuss co-production and distribution opportunities, find out about new projects in development, and network with acclaimed film professionals? Read on to request an accreditation!

The 4th Dot.on.the.Map Industry Days announces that applications for accreditations are now being accepted.

Only Market Badge holders will have access to Dot.on.the.Map Industry Days activities & events.

Eligible professionals:
All film professionals actively working in the field of cinema are eligible (producers, directors, writers, buyers, distributors, film festival representatives and institutions, investors, and sales agents)

All film professionals who are directly involved in the making of a film (development, production, post-production or distribution) are eligible to an accreditation.
Accreditation Cost: €45 (Please follow the online application link where you will be prompted for payment)
Free accreditationsareoffered by the organisers to all film professionals based in Cyprus and actively involved in film development, production and distribution.

Please apply by clicking HERE.http://access.cyprusfilmdays.com/
Accreditation benefits:
Access to Dot.on.the.Map Meeting Point pitching session, presentations and networking events

Access to Dot.on.the.Map Cinema Talks by specialised industry professionals

Profile listing on Dot.on.the.Map Online Platform

Matchmaking: Opportunity for pre-arranged one-on-one meetings with participating professionals based upon their availability and on a priority basis. List of attending professionals and their contact details will be provided to you prior to the event

Two buffet lunches 28 & 29 April, 2023

Free entrance to all the Festival screenings in Limassol and in Nicosia
For more information please contact:

Elena Constantinou
E: elena.constantinou1@gmail.com
W: dot.cyprusfilmdays.com
Warning! The basket time limit is about to expire!
estimated time left:
00:00
Time limit has expired. Please, put item(s) in to basket again.
---