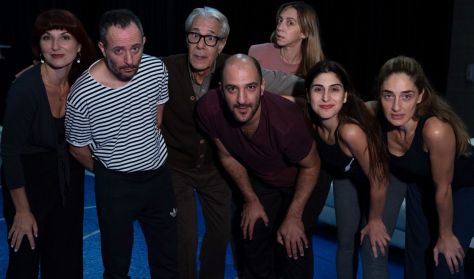 3
Η μέθοδος του δόκτορα Παλομέρο/Θέατρο Δέντρο
Greek Theatre Performance
Nincs aktuális előadás
Ön egy múltbeli eseményre keresett rá. Kérjük, válogasson aktuális kínálatunkból a Jegy.hu keresőjében!
Last event date: Sunday, November 14 2021 8:30PM
What are the boundaries between the "normal" behaviour and mental disorder? When does the "abnormal" become threatening to the others, and how can collectivity, encounter and solidarity cure our anxieties and fears?

The Method of Dr. Palomero is an absurd witty comedy magnifying disorders that concern us all, turning exaggeration into tragicomedy. Waiting for a doctor who is always late, the protagonists suggest, with humour and generosity, their own innovative self-treatment.

Directed by: Yiannis Leontaris
Cast: Stavros Louras, Emilia Valvi, Marios Mettis, Ilektra Fotiadou, Eleni Sidera, Onisiforos Onisiforou, Polyxeni Savva.

Poster editing: Stavros Petridis
Visual intervention: Andreas Iakovou

Duration: 75'
Tickets: €15 / 12
Part of Limassol Art Walks.
An urgent email from Mr Chekhov Ι Greek Theatre
Αnnual Ιnternational Animated Film Festival I Kimonos Art Center, Cyprus University of Technology, Rialto Theatre.
Warning! The basket time limit is about to expire!
estimated time left:
00:00
Time limit has expired. Please, put item(s) in to basket again.
---