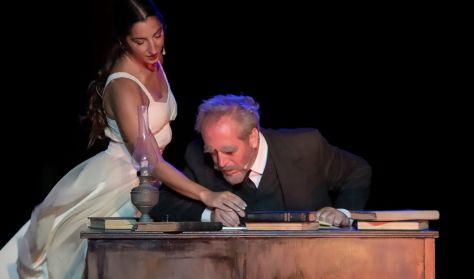 Κωστής Παλαμάς-Οι Μούσες που αγάπησα
(12+) Kypria International Festival (Greek Theatre) more
One of the leading literary figures of Modern Greece, Palamas, narrates his life: the adversities of his early years, his poetic quests and work, his marriage and the loss of one of his children. More importantly, he recalls his efforts towards the Greek language question, the female-muse presence that had a profound impact on his work and the only muse that never deserted him: his homeland.

With Gregoris Valtinos as director and actor
Written by Maria Panayotakopoulou
Music by Sakis Papademetriou

In Greek
Age Limit: 12+

Duration: 85'

Tickets: €15 / €10

* In the performances of the Kypria International Festival, according to the policy of the Festival, the capacity will amount to 75% and entry will be allowed to those who present the following certificates:

1. Vaccination certificate with at least one dose and after a period of three weeks
 2. Proof that a person has been infected with COVID-19 during the last six months.