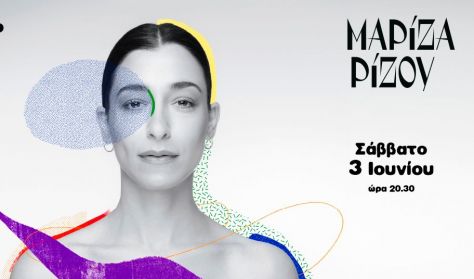 2
Nincs aktuális előadás
Ön egy múltbeli eseményre keresett rá. Kérjük, válogasson aktuális kínálatunkból a Jegy.hu keresőjében!
Last event date: Saturday, June 03 2023 8:30PM
Having recently launched her fourth personal album titled The Village, singer and songwriter Mariza Rizou is excited to announce her 2023 summer tour across Greece and Cyprus.

"A couple of weeks ago, I released my fourth album titled "The Village". Together with my invaluable collaborators –part of my "village"– we are now preparing a live concert drawing inspiration from the path one must inevitably take in order to feel a sincere appreciation and gratitude for life, and for our very personal "Village".

I truly hope that our summer nights will feel like a sing-along on a roof, chatting, connecting with each other, laughing, crying and simply living.

* With us we will have two wonderful creatures who will translate live into sign language. Also, the space will be available and accessible to wheelchairs and disabled people.

**I envision the moment when what I just wrote won't need to be written because it will just be understood.

I am/We are looking forward to seeing you all! Mariza"

With:
Markos Haidemenos: Arrangements/Piano/Hammond/Roads
Panayiotis Kostopoulos: Drums
Yiorgos Mouchtaris: Double bass/Synth Bass/Melodica/Rec
Angelos Aivazis: Guitar / Tzouras
Spyros Nikas: Saxophone / Clarinet
Yiorgos Tamiolakis: Cello
Agapitos Kataxakis & Ilias Karoumpalis: Sound
Philippos Trepas: Lighting
Production: Menta Art Events

Rialto Theatre, Andrea Drousioti, Str.Heroes Square 3040 Lemesos
3rd of JUNE 2023 at 20:30

E-ticket: www.rialto.com.cy | Presale tickets: € 25 / 20
Box Office: 77777745 (Monday - Friday 10:00-15:00)

Major Sponsors: OPAP, MEDOCHEMIE, ISLAND OIL, ATLAS PANTOU
Media Sponsors: KATHIMERINI, LOVE 100,07, RIK, KANALI 6
Silver Lining - Sandi Toksvig Ι Satiriko Theatre
Satanerie – Theophrastos Sakellaridis Ι Epilogi Cultural Movement
WUTHERING HEIGHTS I Anemona Theatre
Warning! The basket time limit is about to expire!
estimated time left:
00:00
Time limit has expired. Please, put item(s) in to basket again.
---