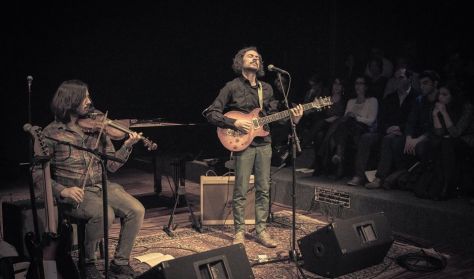 5
Νow Happiness LEFTERIS MOUMTZIS
Nincs aktuális előadás
Ön egy múltbeli eseményre keresett rá. Kérjük, válogasson aktuális kínálatunkból a Jegy.hu keresőjében!
Last event date: Saturday, February 11 2017 8:30PM
Lefteris Moumtzis, the know Cypriot musician, composer and producer , established on the island for the last ten years, running his own record label, festivals and being the founder of several bands. He is mostly known for his work with bands like Trio Tekke and J.Kriste, Master of Disguise with which he released various albums. 
January 2016 he released his first solo album, under his own label, called "Now Happiness". With this record he is attempting an acoustic, minimal approach, giving attention and care to the songs and their stories.  It is a soothing record that flows effortlessly from beginning to end, leaving the listener with a calming and positive feeling.  Stylistically, the music borrows elements from folk, jazz, ambient and classical music.  
Moumtzis has toured Germany, France, England and Greece. In May 2016 'Now Happiness' was released on vinyl. He has supported acts like Eleanor Friedberger (USA) and Joy as a toy (BE) amongst others.
Lefteris plays guitar, piano, oops and sings original material while covering songs by his favourite artists. His solo gigs have been described as atmospheric and engaging.
In his own words "I'm very happy to announce the first show for 2017 and what a show. At one of the nicest theaters in Cyprus, Rialto Theater in Limassol, where we played with J.Kriste, Master of Disguise some years ago, and from which show you probably know from the videos". In his concert in Rialto Theatre Moumtzis will be accompanied by the Greek musician Demetris Xatzisisis on the electric guitar, violin, loops and vocals.  
Reviews:
'Now Happiness is a brave record, in the sense that it pops in front of you having reposed before all the possible strong cards that a modern recording can take advantage of in order to assert itself'  Avopolis.gr 
'Now Happiness is one of those records that take you by the hand and escort you through trails of catharsis, leading you to a new morning of a new beginning. Simerini Newspaper
'It's not every week that a song from a Cypriot artist makes the Listening Post...' Freshonthenet.co.uk 
'... a live set that gave reasons to dig further into this extraordinary musician's discography!' Avopolis.gr (live review)
'...convinced even the most reluctant person in the audience to find out much more about this artist'. Rocking.gr (live review)
Running time 75 minutes
Sponsor: Medpool
Media sponsor: Cybc TV, U Radio
Tickets: € 10 / 8
Click here for the website of Lefteris Moumtzis 
Αnnual Ιnternational Animated Film Festival I Kimonos Art Center, Cyprus University of Technology, Rialto Theatre.
Part of Limassol Art Walks.
Α multi-awarded film screening (2019, 115') I Short presentations and discussion will follow.
Warning! The basket time limit is about to expire!
estimated time left:
00:00
Time limit has expired. Please, put item(s) in to basket again.
---