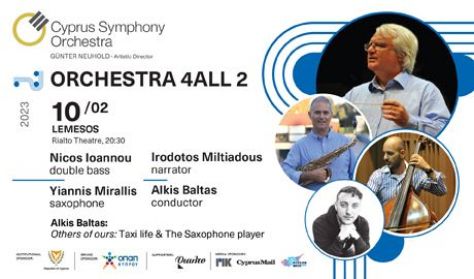 5
Orchestra4All 2 CySO
Cyprus Symphony Orchestra
Nincs aktuális előadás
Ön egy múltbeli eseményre keresett rá. Kérjük, válogasson aktuális kínálatunkból a Jegy.hu keresőjében!
Last event date: Friday, February 10 2023 8:30PM
Conductor and composer Alkis Baltas creates a musical backdrop with excerpts from classical works for the novels "Taxi life" and "The saxophone player" by Kostas Lympouris from his novel collection Others of ours (Cyprus State Award for best Novel in 2015).

In his collection, Kostas Lymbouris describes the lives of people from other countries residing in Cyprus in an extremely exciting way. The novels "Taxi life" and "The saxophone player" speak about the life of two foreign musicians, a double bass player and a saxophone player. In this concert, the novels will be recited by the well-known actor Irodotos Miltiadous, accompanied by the CySO under the direction of Alkis Baltas, featuring as soloists the distinguished Nicos Ioannou - double bass and Yiannis Myralis - saxophone.

Alkis Baltas: Others of ours: Taxi life
Alkis Baltas: Others of ours: The Saxophone player

Nicos Ioannou double bass
Yiannis Mirallis saxophone
Irodotos Miltiadous narrator
Cyprus Symphony Orchestra
Alkis Baltas

Ticket price: €8 for all
Free entrance for people with disabilities.
Satanerie – Theophrastos Sakellaridis Ι Epilogi Cultural Movement
Warning! The basket time limit is about to expire!
estimated time left:
00:00
Time limit has expired. Please, put item(s) in to basket again.
---