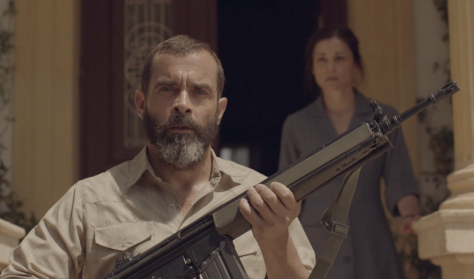 3
Siege on Liperti Street
Summer Cinema
Located at the UN border dividing the Greek from the Turkish Cypriot side, the film captures the story of a family living on the verge of poverty and hunger, with the unemployed husband and father, an ex-military, struggling to get by. Confronted with his fragile soul, he has the support of his wife who desperately tries to take care of her old father-in-law and her two young children. In addition to the national and financial crisis, the debt-ridden family is also confronted with the contempt of the public services, which seem to ignore the father's dismissal from the army due to psychological problems.
A tale of twists combining elements of police, action and social drama genres, "sprinkled" with a good dose of humour. Awarded with five prizes at Thessaloniki International Film Festival, Siege on Liperti Street is having its Cyprus premiere at Rialto's summer cinema.

Direction: Stavros Pamballis
Script: Stavros Pamballis
Cinematography: Dimitris Kiriakou
Editing: Yiorgos Mavropsaridis
Sound: Dinos Kittou
Music: Patrick Jonsson
Actors: Constantine Markoulakis, Daphne Alexander, Akilas Karazisis, Niovi Charalambous
Production: Argonauts Productions, Green Olive Films
Producers: Panos Papachadjis, Simos Maganis
Co-production: Faliro House, Ministry of Education and Culture of Cyprus, GFC, ERT, Iron Box Films
Production Design: Liza Tsouloupa
Make Up: Yiorgos Vavanos

Greece, Cyprus, 2019, 88'
Subtitles:English
FESTIVALS AND AWARDS
As a work in Progress:
KVIFF 2019 - Eastern Promises Showcase Karlovy Vary International Film Festival 2019
World Premiere & Awards

60th Thessaloniki International Film Festival:
Fischer Audience Award
Greek Society of Film Critics Award (PEKK)
International Federation of Film Critics Award (FIPRESCI) ERT (National Broadcaster) Award, First and Second Prize
Sponsors: Cyprus Republic, OPAP Cyprus, Deputy Ministry of Tourism, EventPro, SEK
Media Sponsors: City Free Press, CYBC, Kanali 6
Tickets: €8 open-air / €16 drive-in
---
General safety instructions for viewers 
Viewers must purchase their tickets in advance either online at www.rialto.com.cy or from Rialto's box office 77777745 (Monday to Friday, 10:00-13:00). 
On the evening of the screening, the box office in the Theatre foyer will remain open from 20:00 to 21:00 for settling any issues related to tickets.
There will be two different entrance and exit points for cars and viewers.
To avoid overcrowding, viewers are requested to arrive on time. The Theatre's personnel will be guiding the audience during their departure, to ensure their safe and smooth exit from the parking place.
There will be no break during the screening and no canteen will be operating. Viewers may bring their own water, drinks and snacks. 
For the correct implementation of all health and safety measures, viewers are requested to follow the instructions of the Theatre's personnel, who will be readily available.
Drive-in viewers:
For a controlled and smooth access of the audience, drive-in tickets may only be purchased up to 24 hours before the screening. Drivers may only be allowed to park their car by 20:45 the latest. 
The radio frequency will be provided to drivers upon their arrival, in order to transmit the sound of the film to their car radio.
Drivers are requested to turn off their car's engine during the film and may not depart before the end of the screening. 
In case of emergency, the driver must contact the Theatre's security staff who will arrange their departure from the parking place. 
Open-air cinema viewers:
No seat cushions will be provided. Viewers may bring their own cushions if they wish so