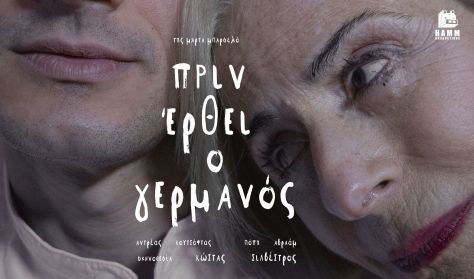 Πριν έρθει ο Γερμανός
Before the German's Here by Marta Barceló Ι In Greek I HAMM Broductions Ι On Stage
Nincs aktuális előadás
Ön egy múltbeli eseményre keresett rá. Kérjük, válogasson aktuális kínálatunkból a Jegy.hu keresőjében!
Last event date: Sunday, April 09 2023 8:00PM
A modern stage play on Alzheimer's disease, directed by Costas Silvestros, who paints on a "blank canvas" the unique universe of his heroine. Acclaimed Cypriot actress Popi Avraam takes the lead, accompanied by upcoming young actor Andreas Koutsoftas, who plays multiple roles penetrating in the heroine's daily life.

Julia is a woman in her sixties who has long understood that something is not right with her memory. The medical exams confirm Julia's suspicions: she suffers from Alzheimer's, the same disease her mother suffered from. It is only a matter of time before she completely loses her personality and no longer recognizes her own sons.

She therefore decides to take her health and life into her own hands, trying to solve the problems emerging due to the disease, and settle any unfinished business with other people and institutions. She eventually decides to make a list setting out all those things that she really wishes to do while she is still able to make decisions for her own life. Her greatest wish is to enjoy every precious minute before the "German" occupies her mind forever.

Written by: Marta Barceló Femenías
Translation: Maria Hadjiemmanouil
Directing: Costas Silvestros
Cast: Popi Avraam, Andreas Koutsoftas
Set/Costumes: Yiorgos Yiannou
Lighting: Vasilis Petinaris
Music: Constantinos Lemesios
Assistant Director: Loizos Papageorgiou
Production coordination: Marios Mettis
Production: HAMM Broductions

Duration: 70'

Tickets: € 15 / 12
Don Quixote "We will change the world"!
Choreography: Evie Demetriou / On Stage
Warning! The basket time limit is about to expire!
estimated time left:
00:00
Time limit has expired. Please, put item(s) in to basket again.
---