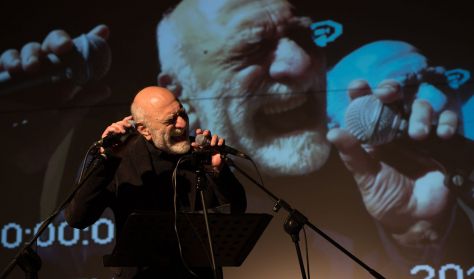 7
ΣΑΡΔΑΜ: η λογοτεχνία αλλιώς
SARDAM Interdisciplinary Literature Festival
Nincs aktuális előadás
Ön egy múltbeli eseményre keresett rá. Kérjük, válogasson aktuális kínálatunkból a Jegy.hu keresőjében!
Last event date: Saturday, September 24 2022 8:00PM
SARDAM celebrates 10 years of festival presence and literary performance! In this exciting anniversary edition, important participants of previous events as well as new participants return to the festival stage, while for the first time the group night of the festival (Main Event) will take place at the Rialto Theater in Limassol, on Saturday 24 September!

Once again, writers-performers and other artists from Cyprus and abroad share original ways of writing, reading and generally performing literature, through events, workshops and parallel events. Their common feature is the combination of literature and speech with modern and classical means of expression, such as theater, technology, sound and music, words, visual arts, sound poetry, video poetry and so on.

CYPRUS: Maria A. Ioannou, Avgi Lilli, Erina Charalambous, Maria Tziaouri-Hilmer, in cooperation with the director Maria Kyriacou and the writer Louiza Papaloizou
GREECE: Sam Albatros / Adonis Volanakis
SWITZERLAND: Narcisse
UNITED KINGDOM: Hannah Silva / Debris Stevenson
HUNGARY: Katalin Ladik
ITALY: Giovanni Fontana / Sergio Garau
AUSTRIA: Katharina Wenty
JAPAN: Tomomi Adachi

GERMANY: Tom Bresemann (via QR code), in cooperation with the writers Nafia Akdeniz (CY), Marina Agathangelidou (GR, GER), Sam Albatros (GR), Mariam Rasheed (GER) and Ekaterina Derisheva (UKR)

Rialto Theatre, Saturday 24 of September at 20:00
Tickets Prices: €8
E-Tickets available here: www.rialto.com.cy
Information: 77 77 77 45
(Monday- Friday 10:00-15:00, also 1,5 hour before the start of the events)
www.sardamcy.wordpress.com
Annual concert Tatiana Stupak School of Music
Nicosia Municipal Theatre
Warning! The basket time limit is about to expire!
estimated time left:
00:00
Time limit has expired. Please, put item(s) in to basket again.
---