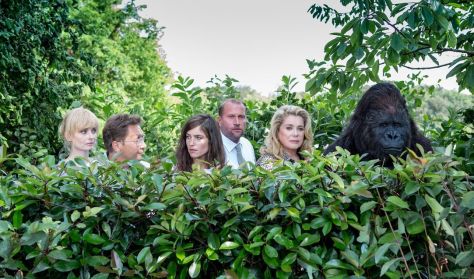 6
The Brand New Testament!
Summer Cinema
God exists! He lives in Brussels and He's a real scoundrel. A tyrannical force in the lives of the masses, He drinks, smokes and spends his time tormenting humanity. His younger daughter has had enough of her Father's abuse and her lockdown, and she decides to "come down" to earth, and offer people a new way of living: a Brand New Testament. This multi-awarded fantasy dark comedy, that is both hilarious and surreal, was nominated for a Golden Globe for Best Motion Picture - Foreign Language.

Directed by: Jaco Van Dormael
Cast: Pili Groyne, Benoît Poelvoorde, Catherine Deneuve et al.

Subtitles: Greek, English

Belgium, France, 2015, 112'
Sponsors: Cyprus Republic, OPAP Cyprus, Deputy Ministry of Tourism, EventPro, SEK
Media Sponsors: City Free Press, CYBC, Kanali 6

Tickets: €8 open-air / €16 drive-in
---
General safety instructions for viewers 
Viewers must purchase their tickets in advance either online at www.rialto.com.cy or from Rialto's box office 77777745 (Monday to Friday, 10:00-13:00). 
On the evening of the screening, the box office in the Theatre foyer will remain open from 20:00 to 21:00 for settling any issues related to tickets.
There will be two different entrance and exit points for cars and viewers.
To avoid overcrowding, viewers are requested to arrive on time. The Theatre's personnel will be guiding the audience during their departure, to ensure their safe and smooth exit from the parking place.
There will be no break during the screening and no canteen will be operating. Viewers may bring their own water, drinks and snacks. 
For the correct implementation of all health and safety measures, viewers are requested to follow the instructions of the Theatre's personnel, who will be readily available.
Drive-in viewers:
For a controlled and smooth access of the audience, drive-in tickets may only be purchased up to 24 hours before the screening. Drivers may only be allowed to park their car by 20:45 the latest. 
The radio frequency will be provided to drivers upon their arrival, in order to transmit the sound of the film to their car radio.
Drivers are requested to turn off their car's engine during the film and may not depart before the end of the screening. 
In case of emergency, the driver must contact the Theatre's security staff who will arrange their departure from the parking place. 
Open-air cinema viewers:
No seat cushions will be provided. Viewers may bring their own cushions if they wish so