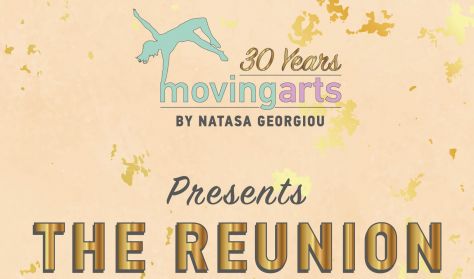 The Reunion
Moving Arts Centre
Moving Arts Centre by Natasa Georgiou presents THE REUNION.
Summary: A pair of twin girls separate when one is adopted by a family and leaves the orphanage. Des leaves with a wealthy family and Nia stays behind with the rest of the children who are now her family back in the orphanage. The two girls grow up in two completely different worlds, yet they are both bullied, one for her wealth and the other for her poverty. The years go by and they both reach their graduation only to be found at the party of their mutual friend Victoria, however, they will not recognize each other. At one point, they both receive a text message on their cell phones and hurry to a nearby park.
The sequel on stage ...!
Choreographies: Natasa Georgiou, Chloe Therapontos, Victoria Ioannidou, Melina Ioannidou.
Song composition and interpretation: Semeli Panayiotou
Orchestration: Emily Doratis
Poster, flyers and promotion: Konstantinos Christodoulou
The show is dedicated to the children of the Reception Centre for Refugees and Asylum Seekers of International Protection and the net income will be given to cover their various needs.
Duration: 65'
Tickets: €12 / 7 (children under 12 years old)