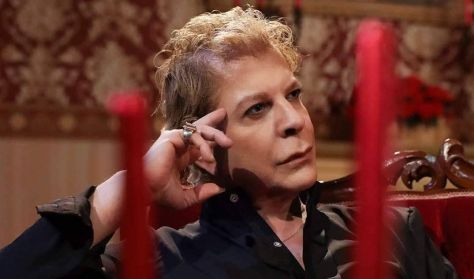 11
Το πορτρέτο του Ντόριαν Γκρέυ
The Picture of Dorian Gray by Anemona Theatre. In Greek.
Nincs aktuális előadás
Ön egy múltbeli eseményre keresett rá. Kérjük, válogasson aktuális kínálatunkból a Jegy.hu keresőjében!
Last event date: Tuesday, March 07 2023 8:30PM
Anemona Theatre celebrates its 20th anniversary with The Picture of Dorian Gray adapted for stage by Greek author and playwright Rozita Sokou. The play was the first to be presented by Anemona Theatre 17 years ago, an emblematic moment in the theatre's history.

Dorian Grey is the favourite subject of Basil Hallward, an idealist painter who has just finished painting a portrait of him. While admiring it together with his cynical friend, lord Henry Wotton, Dorian wishes for the picture to age instead of him so that he may remain eternally young. His wish becomes true!

The devastating influence of lord Henry who teaches him that only external beauty and thirst for pleasure are to be ravished, absolve Dorian Grey of any compassion and humanity. Soon enough, he surpasses his mentor and begins, now free from moral barriers, to explore the darkest paths of debauchery, where evilness becomes a synonym of freedom of thought, and everyone else becomes a pawn of his insatiable thirst. Yet the portrait, which constantly reflects a real image of his soul, proves that what he would rather deny, actually exists.

Directing: Andreas Tilemachou
Set design: Andreas Tilemachou
Costumes: THEODORA (Theodora Petrou)
Lighting design: Vasilis Petinaris
Assistant set designer: Monica Hadjivassiliou
Music supervision: Andreas Tilemachou
Cast: Andreas Tilemachou, Marinos Xenofontos, Petros Petrou, Elia Ioannidou, Fani Sokratous, Nikolas Petrou, Yianna Lefkati.

Duration: 120'

Tickets: €15/12
Cyprus Contemporary Dance Festival 2023, 8+
Cyprus Contemporary Dance Festival 2023, 14+
Cyprus Contemporary Dance Festival 2023,16+
Warning! The basket time limit is about to expire!
estimated time left:
00:00
Time limit has expired. Please, put item(s) in to basket again.
---