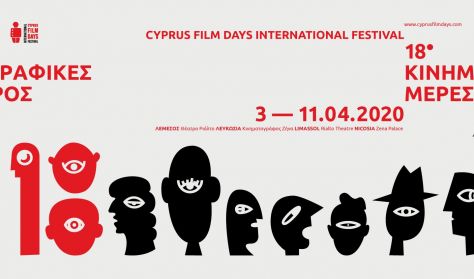 18th Cyprus Film Days - POSTPONED
Postponed
Due to the measures to contain the spread of the new coronavirus (COVID-19), announced by the Cyprus Cabinet, all performances at the Rialto Theatre will be canceled until March 31st.
Some of the performances will be canceled and tickets will be refunded. Online tickets will be automatically refunded on owners' account.
The new dates of the postponed performances will be announced soon and purchased tickets will be valid for the new dates.
Tickets will be refunded also at the Theatre Box Office, which will operate in March from Monday until Friday, during the hours 10:00 – 14:00.
Please visit the Rialto Theatre website www.rialto.com.cy and Rialto Application for more info about all events.
Information: 77 77 77 45
---
This 18th edition of Cyprus Film Days International Festival presents a variety of films, screened at the Rialto Theatre in Limassol and Zena Palace Cinema in Nicosia. An international competition section (Glocal Images), internationally awarded film premieres (Viewfinder), tributes, parallel programmes, screenings and events for children and youth make up this year's official International Film Festival of Cyprus, dedicated to fiction feature films. This year, the jury consists of internationally acclaimed personalities from the film industry, while many of the films will be screened in the presence of the filmmakers. This year's film premieres include the following awarded films: The Traitor (Marco Bellocchio), Monos (Alejandro Landes), Just 6.5 (Saeed Roustayi), Bacurau (Juliano Dornelles, Kleber Mendonça Filho). Artistic Direction: Costas Constandinides, Tonia Mishiali, Marios Stylianou.
Organised by: Cultural Services – Ministry of Education, Culture, Sports and Youth & Rialto Theatre.
Additional Information:
Subtitles:
-All films will be screened in their original language, and will be subtitled both in Greek and in English.
Admission
- €6 Day pass
- €25 Festival Pass (for all festival screenings)
- Free entrance for students upon display of student card and AmeA cardholders