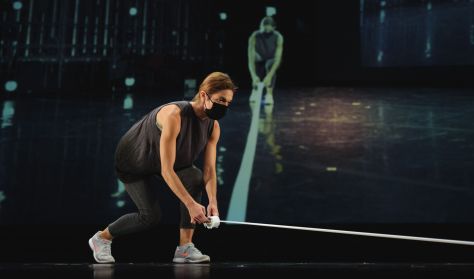 5
A line, a gaze, a horizon/Alexandra Waierstall
Concept, choreography, text: Alexandra Waierstall
Nincs aktuális előadás
Ön egy múltbeli eseményre keresett rá. Kérjük, válogasson aktuális kínálatunkból a Jegy.hu keresőjében!
Last event date: Wednesday, September 21 2022 9:00PM
If live art is not excluded from the mediated but is part of the other, what is the intermediate space that develops?

In her new work in progress, the choreographer Alexandra Waierstall investigates in form and content the recent experience of creating dance under conditions of lockdown and social distancing. However, she extends her discourse to questions concerning art itself today, to the dialogue that is created between the living and the mediated art, the art that reaches the viewer through the mediation of a screen.

How does the present body exist on stage and how does it function when it is projected on the screen? Wednesday, September 21st at the Rialto Theater with a double performance. Starting time at 19:00 and 21:00.

Concept, choreography, text, voice: Alexandra Waierstall
Dancers, videographers: Rania Glymitsa, Arianna Marcoulides, Savvas Baltzis, Ying Yun Chen
Music: Hauschka
Technical Support: Yiangos Hadjiyiannis

Rialto Theatre, Wednesday 21st of September, 19:00 & 21:00
Tickets Prices: € 12,10
Information: 77 77 77 45
(Monday- Friday 10:00-15:00, also 1,5 hour before the start of the events)
For being in touch with the Theatre please follow the accounts: Rialto Theatre - Θέατρο Ριάλτο | Facebook , Rialto Theatre Cyprus Official (@rialto_theatre_cyprus) • Instagram photos and videos
Satanerie – Theophrastos Sakellaridis Ι Epilogi Cultural Movement
Don Quixote "We will change the world"!
Christmas with Marios Tokas Limassol Music School
Warning! The basket time limit is about to expire!
estimated time left:
00:00
Time limit has expired. Please, put item(s) in to basket again.
---