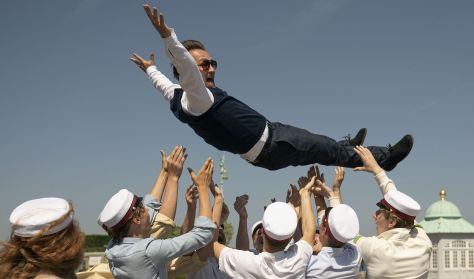 6
Άσπρο Πάτο/Thomas Vinterberg
Rialto Summer Cinema
Nincs aktuális előadás
Ön egy múltbeli eseményre keresett rá. Kérjük, válogasson aktuális kínálatunkból a Jegy.hu keresőjében!
Last event date: Wednesday, July 13 2022 10:00PM
117', Denmark, 2020

A group of friends, all high-school teachers, decide to start drinking during the workday. They all embark on an experiment of keeping a constant low rate of alcohol in their bloodstream, in order to prove that modest inebriation opens our minds to the world, diminishes our problems and increases our creativity. While for some of them the experiment works wonders, some others go off the rails.

Screenplay: Thomas Vinterberg, Tobias Lindholm
Directing: Thomas Vinterberg
Cast: Mads Mikkelsen, Thomas Bo Larsen, Lars Ranthe, Magnus Millang, Maria Bonnevie, Susse Wold

Awards:
Best International Feature Film, Academy Awards, 2021.
Best Foreign Film Award, Bafta & César Awards, 2021.
Best Film Award, European Film Awards, 2020.

Director's comments about the film:

"We also wanted to make a movie about thinking on life, not just being alive but living," says Vinterberg. "I hope it has become a celebration of life. I lost my daughter while making this film [19-year-old Ida died in a car accident in Belgium during the first week of the shoot]. It was nightmarish, it will always be.

"The only reason I could continue making this movie was because a couple of months prior to her death, she sent me a letter talking about how much she loved this project. And she was a pretty tough judge. The only possibility of continuing with this movie was by making it more than just a funny alcoholic story, it had to be about being alive."

The somewhat surprising best director nominations mean a lot to Vinterberg, especially because Another Round is a film he so closely associates with Ida. "With this particular movie, it means a lot to me," he says of the nominations. "I am so proud, and also surprised. But I realise that people see a movie about a lot more than just drinking. That was the most important thing for me and my collaborators – to elevate this project from just being a project about drinking."

All films of Rialto Summer Cinema will be screened in the original language of production, with greek and english subtitles.

13th of July 2022@SEK Parking place (behind Rialto)
Starting time: 21:00

Tickets: € 8, E-ticket: www.rialto.com.cy
Information / Box Office: 77 77 77 45
(Mon – Fri: 10:00 - 15:00 and 2 hours before the performance)
Jenny for a lifetime I On Stage
Tatiana Stupak School of Music
Doubt | CTO Central stage
Warning! The basket time limit is about to expire!
estimated time left:
00:00
Time limit has expired. Please, put item(s) in to basket again.
---