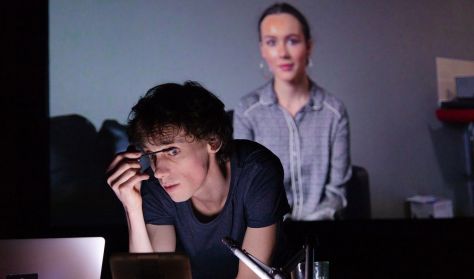 5
Be Arielle F Simon Senn/OPEN HOUSE FESTIVAL
Organised by: Dance House Lemesos Ι On Stage (16+)
Nincs aktuális előadás
Ön egy múltbeli eseményre keresett rá. Kérjük, válogasson aktuális kínálatunkból a Jegy.hu keresőjében!
Last event date: Saturday, October 01 2022 8:30PM
In this digital conference that doubles as a demonstration and confession, Simon Senn, a videographer and visual artist from Geneva, demonstrates how the virtual world and the real world are not always in opposition, revealing the unexpected entanglements between technology, representation, gender, and law.

Simon Senn's experience began when he bought the digital replica of a female body online. He then went in search of the woman whose body he was « virtually » inhabiting. Onstage he conveys this disturbing experience to the audience.

After downloading the replica (a detailed and evidently accurate reproduction), he brought it to life with easily purchased sensors and discovered what it felt like to « have » a female body – at least through his 3D glasses. The experience was moving. Who is this woman ? Can he do anything he likes with this digital body ? What about the new and enjoyable sensuality this virtual form offers him ? He managed to track down the young woman and begin a discussion with her (one that continues today), where together they investigate this third digital body that exists between them. Arielle is now part of the project and is present in the show.

Simon Senn decided to consult a psychologist and explore his feelings of «gender disturbance », which continue to surprise him – does he perhaps suffer from « Snapchat dysmorphia », the clinically accepted psychological illness of those who wish to transform themselves in order to resemble their online image ?

Concept | Creation | Performance: Simon Senn
With: Simon Senn | Arielle F and a virtual body
Production: Compagnie Simon Senn
Production: Anne-Christine Liske
Coproduction :Théâtre Vidy-Lausanne - Le Grütli, Centre de production et de diffusion des Arts vivants - Théâtre du Loup
Distribution & Touring: Théâtre Vidy-Lausanne
With the support of: Porosus - Pro Helvetia - Fondation Ernst Göhner - Pour-cent culturel Migros - Loterie Romande

*Co-organised by Rialto Theatre and Dance House Lemesos

Duration: 60'

Tickets: €10/8
Cyprus Contemporary Dance Festival 2023, 8+
Cyprus Contemporary Dance Festival 2023, 14+
Annual concert Tatiana Stupak School of Music
Warning! The basket time limit is about to expire!
estimated time left:
00:00
Time limit has expired. Please, put item(s) in to basket again.
---