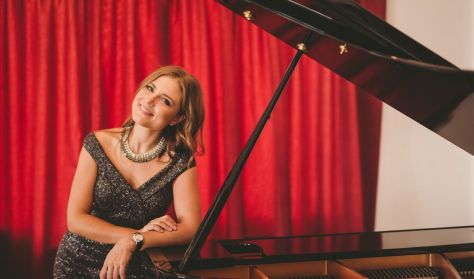 4
Beautiful Life - Tatiana Stupak
The classical pianist Tatiana Stupak, in a departure from her usual concerts, is to play a full piano solo recital on Thursday, January 30th at the Rialto Theatre, Limassol, starting at 7.30 p.m.  The concert will be held under the auspices of the First Lady, Mrs Andri Anastasiades, and Bishop Athanasios of Limassol.
This solo concert promises to be a notable event, with a varied programme of wonderful classical music to appeal to many tastes.  Net proceeds of the concert will be given to The Holy Temple of Archangel Michael & Chapel of St. Matrona Monovolikos, in Kato Polemidia, for the renovation of the St Matrona Chapel.
Since June 2015, Stupak has organised most of the 75 entertainment events in Cyprus in which she has taken part at the piano keyboard. Until now however, she has performed with other professional artists at nearly all her events: not only instrumentalists, but also opera singers, pop music singers, and other entertainers, such as acrobats, ballet dancers, an illusionist, and a sand artist.  She has also included some of the best students from the Tatiana Stupak School of Music, in some of the concerts, to give them experience of performing before a public audience.
She will play at least twelve works, most of them well known, including some virtuoso pieces.  The programme will be varied, and will include romantic period pieces as well as classical and baroque.  
Stupak's two favourite composers are Bach and Chopin – composers whose works are very different in style.  From Bach, we shall hear two of his Preludes and Fugues and his French Suite No.2.  And the works from Chopin will include two well known Etudes, a famous Nocturne, and at least two of his longer virtuoso pieces: the first Scherzo and the first Ballade. 
Beethoven's 'Moonlight' Sonata will be played in full – not just the well-known beautiful and soothing opening movement. Liszt wrote 19 Hungarian Rhapsodies, which are noted for their difficulty, and he will be represented by one of his shorter works, the 11th Rhapsody. 
Other works will include pieces by Prokofiev, Schumann and Tchaikovsky. 
Duration: 120'
Tickets: €15/10