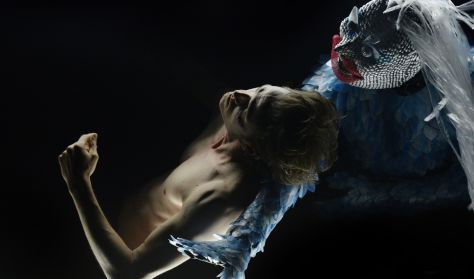 CCDF 23|Hocus Pocus
Cyprus Contemporary Dance Festival 2023, 7+
Nincs aktuális előadás
Ön egy múltbeli eseményre keresett rá. Kérjük, válogasson aktuális kínálatunkból a Jegy.hu keresőjében!
Last event date: Wednesday, June 07 2023 5:00PM
7 WED I Cie Phillippe Saire
Hocus Pocus 17:00 (45') 7+

Hocus Pocus is mainly based on the power of images, their magic and the sensations they provoke. The very unique set design allows for a playful and magical exploration into a game of appearances and disappearances of both bodies and accessories.

The brotherly relationship that develops between the two dancers constitutes the show's guiding thread, both through the hardships they create for themselves to toughen themselves up, as well as through the fantastic voyage that subsequently awaits them.

Hocus Pocus is one of the few contemporary dance works intended for a young audience. It seeks to challenge the imagination of its audience, while weaving a narrative that is open enough for each child to build his or her own story.

Concept and choreography: Philippe Saire
Choreography in collaboration with dancers: Philippe Chosson, Mickaël Henrotay-Delaunay
Dancers on tour: Philippe Chosson, Mickaël Henrotay-Delaunay, Ismael Oiartzabal
Stage device realization: Léo Piccirelli
Props and accessories: Julie Chapallaz, Hervé Jabveneau
Sound design: Stéphane Vecchione
Technical direction: Vincent Scalbert
Construction: Cédric Berthoud
Music: Peer Gynt, by Edvard Grieg

Organised by: Deputy Ministry of Culture (Department of Modern and Contemporary Culture) and Rialto Theatre
Tickets: €8 (€30 for all performances)
Free entrance to students, soldiers, pensioners and dance professionals
Free transportation from Nicosia
A soundwalk around and across Heroes' Square. In Greek & English
Cyprus Symphony Orchestra
A play by Michalis Papadopoulos. Directed by Alexia Papalazarou. In Greek
Warning! The basket time limit is about to expire!
estimated time left:
00:00
Time limit has expired. Please, put item(s) in to basket again.
---