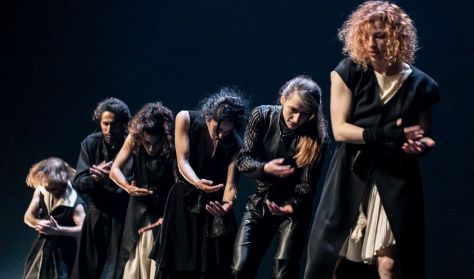 CCDF 23|Lamenta
Cyprus Contemporary Dance Festival 2023
Nincs aktuális előadás
Ön egy múltbeli eseményre keresett rá. Kérjük, válogasson aktuális kínálatunkból a Jegy.hu keresőjében!
Last event date: Wednesday, June 21 2023 8:30PM
21 WED 20:30 (75')
Lamenta I Siamese Cie / Koen Augustijnen & Rosalba Torres Guerrero

Premiere: Greece 15/06/2021 at Athens and Epidaurus Festival
World premiere: 05/07/2021 at Festival d'Avignon
followed by a tour across Europe in 2022 and 2023

In their new creation, Lamenta, choreographers Koen Augustijnen and Rosalba Torres Guerrero (Siamese Cie) continue their shared artistic journey, exploring how our basic, emotional experiences as humans are always embodied and how they can be articulated in physical theatre and dance.

Lamenta focuses on the different emotional states that we experience when we grief our losses. In all cultures, rituals of mourning existed in which song and dance were used to express these emotions. We need to perform these emotions and share them collectively in order to let them go. In our contemporary society a lot of these rituals have been lost, but they still survive in specific regions and cultures, such as Epirus in the North of Greece.

Main source of inspiration for Lamenta, are the miroloi from Epirus, Greek songs of mourning that are not only used at funerals, but also when somebody leaves the family to marry or to migrate. One August night, in Kastania village, near Ioannina, Koen and Rosalba had an almost transcendental experience, when they heard a band of young musicians combining traditional music of Epirus with modern sounds. They also met the singer and composer Xanthoula Dakovanou who is the artistic director of the Kerasovo festival. With Xanthoula as musical director, a group of fifteen Greek musicians gathered to create new recordings of the Greek laments. The musicians included renowned Epirus clarinetist Niko Filippidis and his band, Alexandros Rezopoulos, numerous musicians of the contemporary, Greek ethno-jazz scene as well as Xanthoula herself as a singer. The Greek musicians were joined by the French jazz musician and flute virtuoso Magic Malik. The musical dramaturgy of Lamenta starts from the revival of the miroloi in its original form and glides towards more contemporary musical forms, influenced by post-rock and jazz.

Torres Guerrero and Augustijnen bring together a group of nine contemporary Greek dancers, all highly skilled in a diversity of dance techniques. Together they will explore how the energetic -both earthy and transcendental- qualities of the Greek music and dances can unfold and nourish a contemporary creation. To what extent is traditional dance permeable to other influences? How do we relate to the past and tradition? How can traditional dance be represented on stage today in a way accessible to contemporary audiences and through an intercultural perspective? As in the case of miroloi, transcribing tradition on contemporary dance means letting go: something must be lost or change form in order for a new dance vocabulary to emerge.

As such, Lamenta is a continuation of the journey Augustijnen and Guerrero embarked upon with the highly acclaimed Badke (2013) in which they took the traditional Arabic 'dabkeh' dance as their starting point.

Cyprus Contemporary Dance Festival 2023
Organised by: Deputy Ministry of Culture (Department of Modern and Contemporary Culture) and Rialto Theatre
Tickets: €8 (€30 for all performances)
Free entrance to students, soldiers, pensioners and dance professionals
Free transportation from Nicosia
Presentation of the new album by acclaimed singer Vakia Stavrou
A play by Michalis Papadopoulos. Directed by Alexia Papalazarou. In Greek
A tribute to Ennio Morricone by Stavros Lantsias Quartet
Warning! The basket time limit is about to expire!
estimated time left:
00:00
Time limit has expired. Please, put item(s) in to basket again.
---