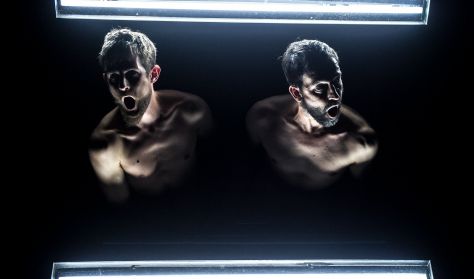 2
CCDF 23|Vacuum
Cyprus Contemporary Dance Festival 2023, 14+
Nincs aktuális előadás
Ön egy múltbeli eseményre keresett rá. Kérjük, válogasson aktuális kínálatunkból a Jegy.hu keresőjében!
Last event date: Wednesday, June 07 2023 8:30PM
Vacuum generates impossible images and fantastic paintings, an interplay of bodies appearing and disappearing between black holes and dazzling lights.

This duo is the third part in a series of performances called Dispositifs, in convergence with visual arts. After Black Out (2011) and NEONS Never Ever, Oh! Noisy Shadows (2014), Vacuum explores a new aspect of our sensory perception through an optical illusion created with two neon tubes. In Black Out, the movements of the dancers drew shapes in some black substance on stage while the audience watched from above. NEONS then staged a couple dancing in a world of lights and shadows. Now, with this third piece, Saire further explores the visual perception of movement.

The result is lyrical and inspiring, as it moves forward through the history of art, from Renaissance paintings to photographic development. Vacuum is a coproduction with Paris Théâtre National de Chaillot and La Bâtie Festival de Genève..
Concept, choreography : Philippe Saire
Choreography in collaboration with the dancers : Philippe Chosson Pep Garrigues
Stage device : Léo Piccirelli
Sound design : Stéphane Vecchione
Technical director : Vincent Scalbert
Construction coordinator : Antoine Friderici
Construction : Cédric Berthoud
Stage management : Mickaël Henrotay Delaunay
Production assistant : Constance von Braun
Video recording & teaser : Pierre-Yves Borgeaud
Photography & graphic design : Philippe Weissbrodt
Music: What Power Art Thou, drawn from Henry Purcell's King Arthur, performed by Fink and the Concertgebouw Orchestra, Ninja Tune, 2013

Organized by: Deputy Ministry of Culture (Department of Modern and Contemporary Culture) and Rialto Theatre

Rialto Theatre, Andrea Drousioti at Heroes Square 3040 L/sol

Wednesday 07/06 at 20:30 (25') (14+)

Price: €8 (€30 for all performances)
E-ticket: www.rialto.com.cy
Box Office: 77 77 77 45 (Monday – Friday 10:00 -15:00)
Free entrance to students, soldiers, pensioners and dance professionals
Free transportation from Nicosia
Don Quixote "We will change the world"!
WUTHERING HEIGHTS I Anemona Theatre
Warning! The basket time limit is about to expire!
estimated time left:
00:00
Time limit has expired. Please, put item(s) in to basket again.
---