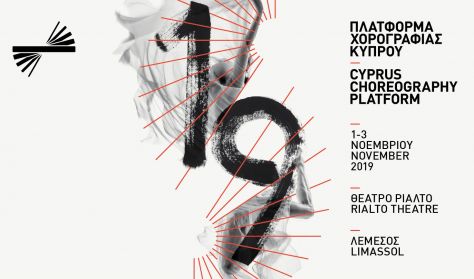 Choreography Platform 2019
1,2,3 November
more
The Cyprus Choreography Platform marks the evolution of the "Contemporary Dance Platform" which has, across 18 editions, contributed greatly to the development and promotion of contemporary dance in the country. The organizers have always aspired to provide choreographers active in Cyprus with opportunities to experiment with new forms of expression and create new projects. Now, this aspiration is enriched by the specific objective of developing and establishing choreography as the foremost requirement for the evolution of contemporary dance in Cyprus.
Introduced for the first time this year is the role of external associate, surveying the creative process and providing feeback to young choreographers and everyone else wishing to receive feedback. Other innovations include the differentiation and expansion of the participants' categories, the incorporation of mentoring in the project preparation process, as well as the launch of the "Young Choreographer Award", equivalent to five thousand euro. The mission of the Platform to date, to create the proper conditions for staging performances by Cypriot creators abroad, by inviting  international personalities of contemporary dance, is now transposed to 'Showcase', a new event to be launched on 6 and 7 March 2020.
For 2019, Greek choreographer Pavlos Kountourioties has been assigned the mentoring of the 6 young choreographers in the course of their project preparation.
Through an open call for submissions, the Selection and Evaluation Committee consisting of Georgia Doetzer, Natasa Georgiou and Marina Stavrinidou, has approved 13 proposals – 7 by experienced artists and 6 by younger creatives –scheduled for presentation, in the context of the renewed Choreography Platform.
Participate the choreographers: Suzana Phialas, Natalie Tsingis,Vision Q - Aneesha Michael, Harry Koushos, Chorotheatro Omada Pende - Chloe Melidou, Maria Kasapi, Melina Sofokleous, Panos Malactos, Amfidromo Chorotheatro - Elena Christodoulidou, Panayiotis Tofi, Asomates Dynameis - Andromachi Dimitriadou Lindahl, Konstantina Skalionta, .pelma.Lia Haraki. 
The core programme of performances is supplemented and enriched by parallel events organized by Dance House Lemesos under the title "Dance Throughout the Year".
PROGRAMME

1.11 FRIDAY 20:30

Suzana Phialas
cold shiny screens 25'

Natalie Tsingis
Who Am I 15'

Vision Q Aneesha Μιχαήλ /Aneesha Michael
into the roots... 15'

Harry Koushos
Something might happen potentially more beautiful - The certainty of chances 25'

2.11 SATURDAY 20:30

Chorotheatro Omada Pende, Chloe Melidou
Επί Των Υδάτων 30'

Maria Kasapi
i-human 15'

Melina Sofokleous
Voicemail 10'

Panos Malactos
Hire me, please 15'

Amfidromo Chorotheatro, Elena Christodoulidou
We_men 25'

3.11 SUNDAY 20:30

Panayiotis Tofi
through me, THEM-- 20'

Asomates Dynameis, Andromachi Dimitriadou Lindahl
Duet / One 15'

Konstantina Skalionta
NoFilterNeeded 15'

.pelma.Lia Haraki (18+)
Humping 30'

Parallel Events
Dance Throughout the Year

1 – 3.11 (20:00 - 20:30) Video @ Rialto screens
Idea / Choreography: Andria Michaelidou
(IN)VISIBLE 4'

2.11 Saturday @ Dance House Lemesos

19:30 Omada En drasei, Evie Demetriou
genes and tonic 30' (Free Entrance)

3.11 Sunday @ Sousou Bar 22:30 Closing Party
---
Organised by the Cultural Services of the Ministry of Education, Culture, Sports and Youth, and Rialto Theatre.
In collaboration with Dance House and Limassol Municipality
Media Sponsors: O Fileleftheros, Φιλgood, Active 107,4, Cybc
Supported by ETAL, Lemesos Newspaper, Russian Wave, Vestnik Kipra
Awarded by EFFE Label 2019 – 2020
Music Composed & Produced by Chris Cara www.soundscape-studios.com
Tickets: € 8 (€ 15 For all the performances) 
Free entrance for choreographers & dancers (Seat reservation essential)