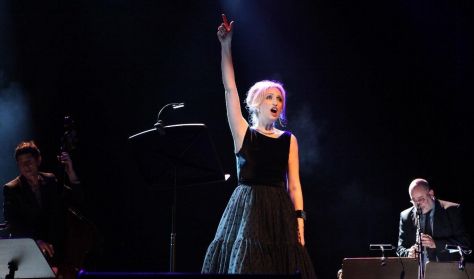 9
Christmas Jazz Show
Soprano Katerina Mina
Nincs aktuális előadás
Ön egy múltbeli eseményre keresett rá. Kérjük, válogasson aktuális kínálatunkból a Jegy.hu keresőjében!
Last event date: Sunday, December 16 2018 6:00PM
After last year's successful Christmas Concert with Katerina Mina and Jazz Trio, the outstanding artists return at the Rialto Theater in a new Chrismas Jazz Show. A festive concert presenting all-time Christmas jazz and blues classics, under the artistic direction of soprano Katerina Mina.

Jazz Trio, consisting of Yiannis Hadjiloizou (piano), Yiorgos Krasides (saxophone) and Ireneos Koulouras (double bass), orchestrates and presents together with soprano Katerina Mina some of the most famous Christmas songs by Cole Porter, Kurt Weil, George Gershwin and Bart Howard, as well as traditional Greek carols.

London-based opera singer Katerina Mina is a British spinto soprano, born in Cyprus in 1975. Katerina studied at the Guildhall School of Music & Drama, having received full scholarships from the City of London Corporation and the A. G. Leventis Foundation. Katerina also trained to become a concert pianist, but decided to specialise her career in singing when her vocal talents saw her become a prize- winner in the two International Singing Competitions she entered in her mid-twenties.

However, 15 years ago Katerina was diagnosed with a rare type of blood cancer and she spent the following 10 years ensuring that the treatment she received enabled her to recover fully from this illness. Following a full recovery, Katerina decided in 2013 to recommence her singing career. In the meantime, she had worked at the St. George's Roman Catholic Secondary School in Maida Vale for a number of years, directing two choirs and several hugely successful musical productions.

Her type of soprano voice has changed over the last five years. Nurtured by her current teacher, Raymond Connell and a group of international vocal coaches she works with, Katerina's soprano voice has developed beautifully into the sound required for the heavier roles of the spinto soprano.

Katerina's resilience, passion and determination has led her recently to record a new CD Album with the title, Angel of Fire, with the Royal Philharmonic Orchestra and conductor Grzegorz Nowak and feature operatic ariasby Verdi, Giordano, Beethoven, Wagner, Cilea and Puccini;Andromache's Farewellby Samuel Barber; as well as two world-première pieces by Swiss composer, Stephan Hodel, based on Katerina's poetry.

A very experienced soloist, Katerina has performed in recent years with well-known orchestras at internationally renowned venues in all the world. A versatile artist, Katerina appeared as a special guest in Rick Wakeman's symphonic concert at the Queen Elizabeth Hall with Orion Symphony Orchestra. She was also the main soloist during the closing ceremony of the International Festival of Astronomy STARMUS 2014, performing alongside theoretical physicist Stephen Hawking and cosmonaut Alexey Leonov. Her acclaimed performance of Linda Lamon's song Rainbow of Light Anthem represented UNESCO's International Year of Light 2015, was played in over 60 countries worldwide and was released as a Single on the date of the winter solstice that year.

She had an official invitation by UNESCO to perform at the opening and closing sessions of the inauguration ceremony of the International Day of Light in Paris; a 'Last Night of the concert with the Royal Philharmonic Orchestra and conductor Nick Davies; participation as a soloist at the International Composers Festival with performances at the De La Warr Pavilion and Opus Theatre in West Sussex; gala concerts at The Tsaritsyno Palace in Moscow; a singing recital at Corpus Christi College in Oxford with Sir Tim Lankester and the world-première performance of Alessandro Valtulini's symphonic piece Ave Maria in F Minor at Teatro alla Scala, with the Philharmonia Orchestra.

Katerina Mina is the recipient of the Russian Federation's Medal for 'Peace and Friendship' and is on a number of Boards.

Sponsors: Trust Insurance Cyprus, Eurofast & Victoria Sarri
Media Sponsors: LOVE FM, Kathimerini newspaper & Cybc
Duration: 120'
Tickets: €15 /10
Αnnual Ιnternational Animated Film Festival I Kimonos Art Center, Cyprus University of Technology, Rialto Theatre.
Greek Theatre with English and Turkish surtitles (18+)
An urgent email from Mr Chekhov Ι Greek Theatre
Warning! The basket time limit is about to expire!
estimated time left:
00:00
Time limit has expired. Please, put item(s) in to basket again.
---