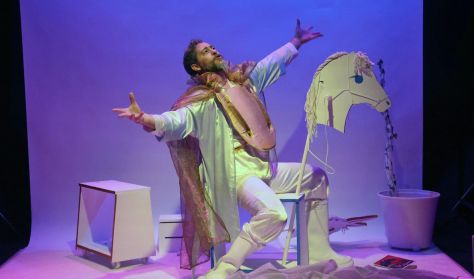 Δον Κιχώτης-Θέατρο Αντίλογος
Don Quixote "We will change the world"!
10.00 €
Balcony, Box Left, Box Right, Orchestra
The Antilogue Theatre, faithful to its appointment with the young friends of theatre, presents the children's production "Don Quixote", the classic literary masterpiece by the Spanish author Miguel de Cervantes, in a theatrical adaptation and directed by Irene Andronicus.

A bizarre dreamy knight moves among us. He cooks in our kitchen, sits in our living room, opens the door to our nursery and plays with all our toys. Like a child, only he's grown up now. The look on his face is funny makes us laugh. But if you look closely you will see his sad eyes. His reflection in the mirror is the same as yours Even his voice is like yours.
-What are you doing here, knight with the sad face?
-I came to change the world.
-You are mad.
-If you want to change the world, it's not madness, it's not utopia. It's justice!

The uncompromising hero entertains young and old alike with his unrepentant childish fantasy of trying to change the world. Theatre helps children unleash their imagination. It teaches values, talks about friendship, solidarity and volunteering. It addresses everyday issues in an understandable way. Children's theatre contributes to a better expression of emotions and develops sociability.

For children who dream of a better and more beautiful future. Full of joy, love and justice. For the children of the heart.

Sunday, January 14, 2024, at 11 am

Distribution (In alphabetical order):
Konstantinos Andronikou, Rafaela Kavazi, Christina Constantinou, Anthony Papamichael

Set - Costumes: Susanna Tomazou
Lighting Design: Kyriakos Siambtanis
Original music: Konstantinos Andronikou
Lyrics: Irini Andronikou
Photography: Christos Avraamidis
Video - editing: Giorgos Alexandrou
Design of promotional material: Neophytos Avraam

Sponsor: Laiko Cosmos Trading

Duration: 50' minutes
General Admission: 10 euros
Suitable for all
Warning! The basket time limit is about to expire!
estimated time left:
00:00
Time limit has expired. Please, put item(s) in to basket again.
---