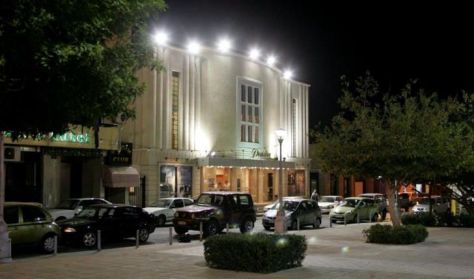 Είκοσι χρόνια Θέατρο Ριάλτο
Images and Milestones
Nincs aktuális előadás
Ön egy múltbeli eseményre keresett rá. Kérjük, válogasson aktuális kínálatunkból a Jegy.hu keresőjében!
Last event date: Friday, May 17 2019 8:30PM
The Rialto Theatre celebrates its 20th anniversary and organises an open-air event at Heroes' Square presenting 'Images and Milestones' of the past two decades. The theatre's façade will serve as the stage and the canvas on which projections, 3D mapping and a spectacle with lights will take place, as well as theatre, dance and music performances.
Featuring multimedia and other modern technologies, this open-air spectacle will be hosting performing artists such as actor Andreas Makris, dancer and choreographer Eleana Alexandrou, soprano Rebecca Savvidou Trimikliniotou accompanied by guitarist Zoi Paisanou Markou, cellist Doros Zisimos, a Brass Band featuring trumpetists Elias Ioannou and George El Haber, trombonists Nicos Koukouvinos and Constantina Siamishi and tuba player Dimitris Gerasimou. The event will also be attended by Diastasis Children's Coir conducted by Christina and Dimitra Pissouriou, as well as the Percussion Band of the Music School of Paphos conducted by Anastasis Charalambides. Music compositions will be accompanying the projections. Among them compositions by Dimitris Spyrou.
The artistic direction and design is entrusted to Adonis Florides (direction), Vera Papastavrou (3D Mapping & image synthesis), Petros Kizas (music), Elena Antoniou (dance), Vasilis Petinaris (lighting design), Andreas Pavlou (technical director & sound engineer). Event Pro will be in charge of the technical support of the event and Sousou Cafeteria @ Rialto will be offering drinks.
On this day, the basement of the Heroes' Monument will be transformed into a Digital Museum, where visitors will have a rare opportunity to travel back to Rialto's performances and events held during the past twenty years.
Sponsors: Trust Insurance, OPAP
Hospitality Sponsor: LOEL
Media Sponsors: Fileleftheros, CYBC, Kanali 6, Εfimerida Lemesos
Technical Support: Event Pro 
Wth the Support of the Municipality of Limassol

Heroes Square
Duration: 45'
Free entrance
Greek Theatre with English and Turkish surtitles (18+)
An urgent email from Mr Chekhov Ι Greek Theatre
Part of Limassol Art Walks.
Warning! The basket time limit is about to expire!
estimated time left:
00:00
Time limit has expired. Please, put item(s) in to basket again.
---