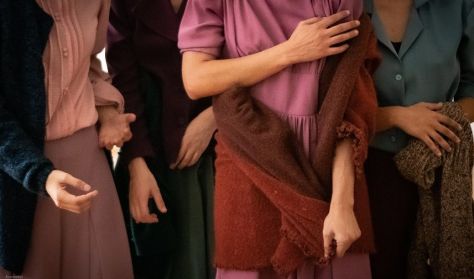 4
Είναι αλήθεια πως θα με περιμένεις;ΑΝΑΒΑΛΛΕΤΑΙ
Nincs aktuális előadás
Ön egy múltbeli eseményre keresett rá. Kérjük, válogasson aktuális kínálatunkból a Jegy.hu keresőjében!
Last event date: Monday, December 21 2020 7:00PM
A city, a community, a war, a ghetto, a displacement, a farewell, a promise for an uncertain meeting after the return to a place that may no longer exist. Houses that suddenly were left abandoned, families who were split and crammed into trains to an unknown destination. Hands that didn't have time to hug, caress, say goodbye. A tribute to the citizens of emptied cities. At night the breeze brings their voices and songs to the neighborhoods where they once lived.

My mother's stories about the extermination of Thessaloniki's Jewish community in 1943, including several of her friends, met Leon Saltiel's book "Don't forget me"- Letters of three Jewish mothers to their sons from the ghetto of Thessaloniki. It struck me to the heart, like everyone who has read it and became the base of this piece that aims to give a human face and a voice to those who perished.

Concept / Direction / Choreography: Andromachi Dimitriadou Lindahl
Music: 2nd string quartet op. 13 by Felix Mendelssohn
Set / costume design: Elena Katsouri Lighting: George Lazoglou
Texts: extracts from the book "Don't forget me" - Letters of three Jewish mothers to their sons from the ghetto of Thessaloniki, curated by Leon Saltiel, translated by Eleni Saltiel
Narrator: Vasilis Vasilakis
Fusionia Quartet: Sorin Horlea (viola), Robert Grod (cello), Marios Ioannou (violin), Savvas Lagou (violin).
Dance / Co-creation: Maria Chrysostomou, Paulina Ioannou, Vicky Kalla, Aneesha Michael Graphic design: Ernst Lindahl
Photography; Giorgos Stylianou

Production Asomates Dynameis Dance Company with the support of the Cultural Services of the Ministry of Education, Culture and Athletics of Cyprus, Terpsichore 2020 program, the Rialto and the Pallas theatre, and by the Embassy of Israel.

www.asomates.com
Duration: 50'
Tickets: €10/7
Cyprus Symphony Orchestra
A tribute to Ennio Morricone by Stavros Lantsias Quartet
A soundwalk around and across Heroes' Square. In Greek & English
Warning! The basket time limit is about to expire!
estimated time left:
00:00
Time limit has expired. Please, put item(s) in to basket again.
---