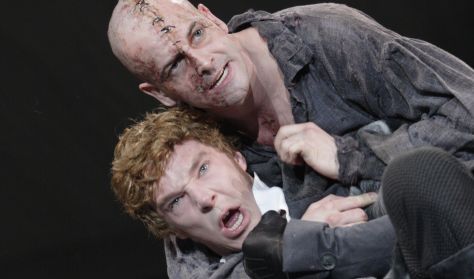 Frankenstein-National Theatre
Nincs aktuális előadás
Ön egy múltbeli eseményre keresett rá. Kérjük, válogasson aktuális kínálatunkból a Jegy.hu keresőjében!
Last event date: Tuesday, January 11 2022 8:00PM
Resuming the National Theatre Live (NT Live) programme, Rialto Theatre hosts an encore screening of Frankenstein. NT Live is an exciting initiative of the Royal National Theatre in London to broadcast live performances of the best of British theatre to cinemas and movie theatres around the world. 

NT Live launched in Cyprus by Rialto Theatre in September 2012 with Mark Haddon's multi-award-winning novel The Curious Incident of the Dog in the Night-Time by Simon Stephens. Since then, the Rialto Theatre has continued the screening of selected performances until the beginning of 2020, when covid 19 led to forced termination of the programme.

Based on Mary Shelley's novel, Frankenstein was adapted for stage by Nick Dear and the performance has been praised by critics and audience alike as one of the most amazing spectacles of the century.

Monstrous, yet carrying the innocence of a child, the bewildered creature, Frankenstein, is exiled in an inhospitable universe by his creator who is driven by horror. This antisocial being is treated ruthlessly and becomes desperate and revengeful. He decides to track down his creator and to strike a scary deal. An exciting and subversive Gothic tale. Directed by Oscar award-winner, Danny Boyle with an amazing cast, among others, Benedict Cumberbatch and Jonny Lee Miller.

Reviews:
★★★★★ "A Theatrical Coup." The Times
★★★★ "A thrill... The most viscerally exciting and visually stunning show in town." Daily Telegraph
★★★★ "A Monster Hit". Time Out
"The actors complement each other perfectly". Guardian
"This is a memorable production and will doubtless be spoken of for years to come." Daily Mail

With Greek and English subtitles I Suitable for 15+ I Duration: 140'
Media Sponsors: Cyprus Mail, CyBC

Rialto Theatre, Tuesday 11th January at 20.00
Tickets: € 12 / 8, E-tickets: rialto.com.cy & Rialto App
Box Office : 77 77 77 45 (Mon-Fri 10:00-15:00 and 2 hours before the performance)
Red Peter - An adaption of Frantz Kafka's works I With Greek & Turkish surtitles (12+)
Cyprus Contemporary Dance Festival 2023,16+
Nicosia Municipal Theatre
Warning! The basket time limit is about to expire!
estimated time left:
00:00
Time limit has expired. Please, put item(s) in to basket again.
---