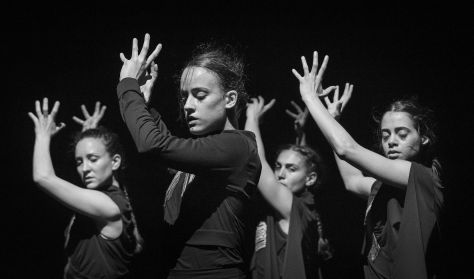 4
Free At Last/DANAE & DIONYSIOS
Cyprus Contemporary Dance Festival 2022 more
Nincs aktuális előadás
Ön egy múltbeli eseményre keresett rá. Kérjük, válogasson aktuális kínálatunkból a Jegy.hu keresőjében!
Last event date: Wednesday, June 22 2022 8:30PM
Mystical imagery; dark atmosphere; Greek tradition deconstructed and linked with the present. An original choreography inspired by the legendary Dance of Zalongo. Danae & Dionysios carry the emotionally charged 'last dance' onto the stage, conveying the movement towards the brink of the abyss. Bodies turn into earth, nourishing in turn what once nourished them. From the ground to the sky; from the roots to the blooming flowers; from the end to the beginning; from the beginning to the end: the endless cycle of life, death, and rebirth.

Free At Last was originally produced in 2019 by Theater Rotterdam, Stichting Droom en Daad, RIDCC and Big Story Productions.

Danae and Dionysios have been collaborating since 2015. As apprentices of nature, its animals, and indigenous civilisations they create stories from the side of the one who was or still is untamed. Ιn their creations, they propose harmonic relationships between nature and its living beings, while the dreamlike atmosphere usually wrapping their work, becomes a conversation between chaos and order. Trying to balance between accessible and pioneer, they support the idea that art is a universal medium of communication, which can create a dynamic yet fragile language. Together, they created their first production UNCIA, which has been touring internationally, counting more than 55 performances in 11 countries, and has received 8 awards across Europe.

Later on, they created the full evening show ATMA, which has been touring in Europe, Asia and Latin America, and Free At Last, which was created under the production house of Theatre Rotterdam. In 2021, supported by the Athens & Epidaurus Festival, they created a new version of the same work titled Free At Last: Rerooted, which premiered in Athens, Greece. Their latest production Valley of the Hummingbirds was commissioned by Staatstheater Braunschweig and premiered in Germany in February 2022. At the same time, they create projects for postgraduate programmes and professional dance schools such as "FRE3 Bodies" in Barcelona and "EPDCYL" in Burgos, while giving workshops around the world.

Choreographed by: Danae & Dionysios
Performers: Ioulia Zacharaki, Irο Daskalaki, Emmanouela Pechynaki, Natalia Baka
[Original Cast: Pauline de Laet, Livia Petillo, Ioulia Zacharaki, Danae Dimitriadi].

Original Music: Constantine Skourlis
Lighting design: Jorg Schellekens
Light adaptation: Lampros Papoulias, Vangelis Mountrichas
Costume design: Danae Grimopoulou
Cello: Konstantinos Chinis
Vocals: Maira Milolidaki
Loom weaving: Loomigans

Duration: 50'

Organised by: Cultural Services of the Ministry of Education, Culture, Sports and Youth & Rialto Theatre
Media Sponsors: Phileleftheros Newspaper, Αctive 107.4, CyBC
In collaboration with: Dance House Lemesos
Supported by: Limassol Municipality, Lemesos Newspaper, Limassol Today, Lemesos blog, ETAL, Vestnik Kipra, Russian Wave, Social et al.
Τechnical Support: Event Pro I Awarded: EFFE LABEL

Tickets: € 8 (€ 30 for all performances)
Free entrance for students, soldiers, pensioners and dance professionals

Free transportation from Nicosia to Limassol
Departure from the Cyprus Handicraft Centre (Athalassa Avenue)
Departure time: 19:00 I Information: 99 618225

More information:
http://cypruscontemporarydancefestival.com/
https://www.facebook.com/CyprusContemporaryDanceFestival/

Rialto Theatre, Wednesday, 22nd of June 2022, at 20.30
E-ticket: www.rialto.com.cy, Rialto App
Rialto Box Office : 77 77 77 45
(Mon – Fri: 10:00 - 15:00 and 2 hours before the performance)
Α multi-awarded film screening (2019, 115') I Short presentations and discussion will follow.
Greek Theatre with English and Turkish surtitles (18+)
Part of Limassol Art Walks.
Warning! The basket time limit is about to expire!
estimated time left:
00:00
Time limit has expired. Please, put item(s) in to basket again.
---