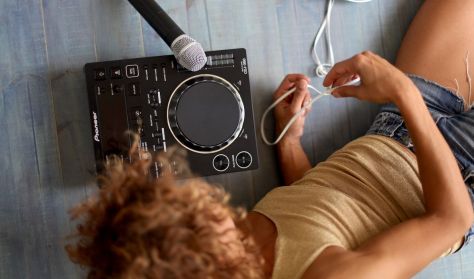 2
Genes & Tonic
27 & 28/11, On Stage
more
Εn Drasi presents the solo performance genes and tonic, created and performed by Evie Demetriou at Rialto Theatre, in Limassol, on the 27th and 28th of November.

With intense physicality and humour, genes and tonic questions social stereotypes and explores the connection between memory and identity. A landscape of movement, speech and sound that provokes and energises at the same time.

Performances

Limassol: Tuesday Ι Wednesday 27& 28 November, Rialto Theatre on stage

facebook: @eviedemetrioudanceartist
www.eviedemetriou.com

Production: En Drasi
Choreography / Performance: Evie Demetriou
Advisor: Tabea Martin
Music: Demetris Spyrou
Lighting Design: Aleksandar Jotovic
Styling: Kristia Michaelidou
Voice Coach: Cathryn Robson
Photography: Papamichael Michael

Sponsored by the Cultural Services of the Ministry of Education and Culture
Supported by Dance House Lemesos
Media Sponsors: CYBC, Kanali 6

Εvie Demetriou BIO:

Evie's work can be characterised by the desire to question and challenge the boundaries of conventional dance. In every new piece of work the artist challenges her own limits as well as the spectators', creating a space of interaction and communication.

Her main focus, to communicate her research with the audience, brings to her work humour, interactivity with the audience, and bold but different approaches to her work every time.

She studied dance and performance at the Laban Centre in London and with scholarship at Limon Institute in New York. She is a 2004 Danceweb scholarship recipient, a travel grant recipient from the E-motional European Programme 2011-2014 . She was also an invited artist at "Act Your Age" programme, a europpean collaboration between Italy, Holland and Cyprus.

In 2004 together with Emily Papaloizou they formed En drasi dnace company, the umbrella which host their independent choreographic works and projects.

Her choreographic works are performed in various venues in Cyprus and were invited in international festivals such as "Presente Futuro, Palermo Italy, "Time to Dance Festival" Riga Latvia, "E-motional festival" Bucharest Romania, "Abundance" Karlstad Sweeden, "Tanzherbst" Dresden Germany, "Nairobi solo and duets Festival" Kenya, "Stockholm Fringe Festival" Sweden, "Creative Forum of Independent Theatre" Alexandria Egypt, "If Only" Birr Ireland, "Dance Week" Dresden, Germany, "Biennale of Sinop" Turkey, "Faki Festival" Zagreb Croatia, "Dimitria Festival" Thesalloniki Greece. She was also the selected dance artist to represent Cyprus in the "Biennale for Young artists from Europe and the Mediterranean" (2008) in Puglia, Italy. She has choreographed and co-directed videodances that were screened in numerous international festivals in Europe and the States.

She has also contributed in the development of contemporary dance in Cyprus, as one of the founding members of the Dance House Lemesos and member of New Movement of Dance Groups, Choreographers & Dancers (2006-2010, 2012 -14).
Duration: 40'
Tickets: €7/ 5