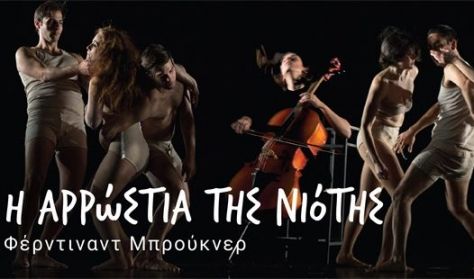 10
Η Αρρώστια της Νιότης
THOC New Stage more
It sucks your blood under your skin like a vulture. That's not pleasure, it is delirium, pain, beastly madness.
A rarely performed and exceptionally bold play by Ferdinand Bruckner, written in 1926, is staged for the first time in Cyprus. Aliki Danezi-Knutsen and her associates shed light on the ambiance of an entire era, exposing the milieu within which the characters explore their subconscious and are thereby led to extreme behaviours. The music, composed specifically for the play by Monika, is performed live on stage.
A prominent group of actors includes THOC award recipients, Andreas Tselepos and Niovi Charalambous.
Translation: Yorgos Depastas
Direction-Dramaturgy: Aliki Danezi-Knutsen
Music: Monika
Lyrics of songs: Monika-Stavros Xenides
Set-Costumes: Marina Hadjilouka
Movement: Alexis Vasiliou
Orchestration: Aris Zervas
Lightning design: Stavros Tartaris
Assistant to the Director: Evita Ioannou
Assistant set-costume designer: Eleni Ioannou
Cast: Dimitris Georgiades, Kika Georgiou, Niki Dragoumi, Fotis Karalis, Venia Stamatiadi, Andreas Tselepos, Niovi Charalambous.

In Greek, with English and Turkish surtitles.

Duration: 125'
18+

Tickets: €12 / 6