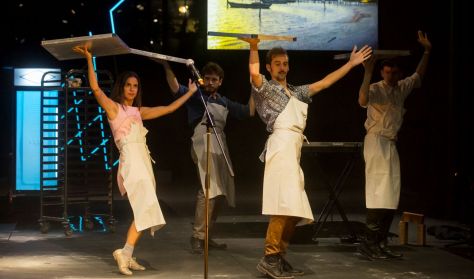 11
Η Δημοκρατία του Μπακλαβά
18, 19, 20/5, The play The Republic of Baklava. With Greek & English surtitles more
Nincs aktuális előadás
Ön egy múltbeli eseményre keresett rá. Kérjük, válogasson aktuális kínálatunkból a Jegy.hu keresőjében!
Last event date: Saturday, May 20 2023 9:00PM
Following its staging at Athens Epidaurus Festival in 2021 in the framework of the 1821 Bicentennial tribute, where it received critical and audience acclaim, the surrealist comedy The Republic of Baklava is presented on Rialto Theatre's stage.

Sophia and Fatih, from Greece and Turkey respectively, are two young people who met and fell in love with each other while studying in some Western country. When the couple decides to establish their business, a baklava shop located in the historical city of Mesolongi, they are forced to confront the traditional hostility of their countries and decide to declare their business "an independent state". A romantic venture, doomed to fail.

A group of "researchers" are invited on stage to reconstruct the history of this tiny nation, its birth, conflict and heritage. Through a number of imaginary, surrealist and comic situations, the two young people are longing to become unshackled from the eternal stereotypes of their counties and to invent a new identity for themselves.

The Republic of Baklava is an unexpectedly hilarious theatre mockumentary, which, despite drawing inspiration from the 1821 Greek Revolution, is set in the modern-day, digital world, exploring issues of identity and politics through today's perspective.

SYNOPSIS
The Republic of Baklava used to be a digital micronation, initially established in the long-suffering city of Mesolongi. It was established by businessman Fatih Demir and mathematician Sophia Papadaki. The couple were nominated president and vice-president of the new state during its first independence declaration. The Republic of Baklava has its own government, currency, and public services. Nonetheless, no country has ever officially recognized it as a sovereign state. Being considered by the Greek government as a ploy to collect funds from tourists and evade national taxation, the R.o.B. was taken over by the police on 26th July of the following year.

From the very first moment of its dissolution, the "Republic of Baklava" became the research subject of a documentary. Today, it is the "Eldorado" of fanatic cryptocurrency miners, since a large sum of money is still buried in its ashes.

CAST AND CREW
Concept, directing: Anestis Azas
Written by: Gerasimos Bekas, Michalis Pitidis, Anestis Azas
Assistant director-Dramaturgy consultant: Michalis Pitidis
Set design: Eleni Stroulia
Set design collaborator: Zaira Falirea
Set adaptation for amphitheatre: David Negrin, Georgios Kolios
Costumes: Vasilia Rozana
Lighting: Eliza Alexandropoulou
Lighting adaptation for amphitheatre: Dimitra Aloutzanidou
Music: Panayiotis Manouilidis
Choreography: Zoe Hadjiantoniou
Video: Dimitris Zachos
Photographs: Pinelopi Gerasimou
Production management: Kostis Panayiotopoulos

Cast: Cem Yigit Üzümoglu, Katerina Mavroyiorgi, Yiorgos Katsis, Gary Salomon

*With Greek and English surtitles

This Athens Festival 2021 performance is co-produced by Projector and LYKOFOS production companies.

Tickets: €18 / 12
Annual concert Tatiana Stupak School of Music
Cyprus Contemporary Dance Festival 2023, 8+
Warning! The basket time limit is about to expire!
estimated time left:
00:00
Time limit has expired. Please, put item(s) in to basket again.
---