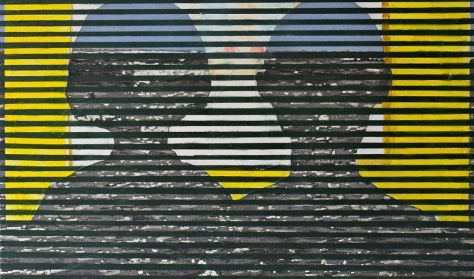 A play addressing a multitude of issues such as human ignorance, isolation, the fragility of human existence, the absence of free choices in a world where restrictions prevail, the beasts and the beauties (truth and lies) created by the human being in his attempt to find out what cannot be found out, the abuse and violence caused when power is misused.

Lambros is a young man employed as a false witness in a trial-fixing ring. Everything works just fine until things stop working just fine. Lambros is trapped. What has occurred? What is true and what is false?  What is freedom, and what does its absence signify? Which things belong to us? Which of our choices are really our own? Lambros' ignorance of the key points in his case is our very own ignorance. The journey of his life from darkness to light is the journey of our own life.
Playwright ― Visual Concept ― Direction : Myrto Papachristoforou
Artistic Direction: Katerina Attalidou
Sets Ιmplementation : Katerina Attalidou, Stefanos Karampampas, Stylianos Pelekanos and Omass Archtitecture, Pavlides Carpenters Ltd, Waternet Ltd, Myrto Papachristoforou
Performers : Irina Christodoulou, Christos Avraam, Myrto Papachristoforou.
The poster has been created by the visual artist Katerina Attalidou
Sponsor: OPAP
Media Sponsors: CYBC, Kathimerini, Love FM & Kanali 6
Duration: 90'
Tickets: €7