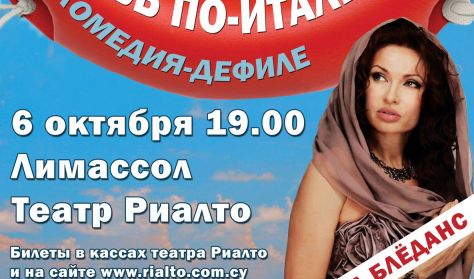 Love in Italian Style
Based on a play by Aldo Nicolai

more
One lovely summer day the main character of the performance goes to the beach to swim.
There he meets a charming young woman ...But  he even do not realize that in these glamorous beauty on the seashore the Rock itself awaits him...
Romance, passion, detective and a lot of sparkling humor performed by famous Russian actors - people's artist of Russia Semyon Strugachev, honored artist of Russia Andrey Fedortsov, the brilliant singer Evelina Bledans.
The play is winner of category special prize of the jury of the annual international theatre festival "Amur autumn". 
Ticket prices:  €40 (Α-Η), €35 (I-AAA), €30 (BBB-DDD),  € 25 (Rialto Theatre Supporters)