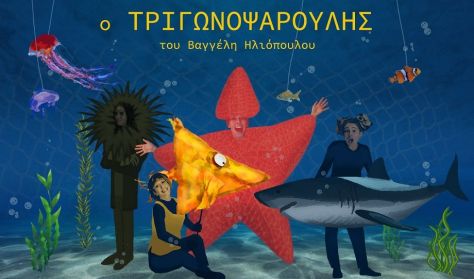 Ο ΤΡΙΓΩΝΟΨΑΡΟΥΛΗΣ
Theatro Tsepis
Nincs aktuális előadás
Ön egy múltbeli eseményre keresett rá. Kérjük, válogasson aktuális kínálatunkból a Jegy.hu keresőjében!
Last event date: Saturday, December 05 2020 5:00PM
The Life in the sea, where little creatures live with their joys and sorrows, is more or less like ours. Trigonopsaroulis, a small fish with a triangular shape, so different from everything else, seems to have been born to illuminate the murky waters of the seabed. The Pocket Theater with the adventures of Trigonopsaroulis, from the pen of Vangelis Iliopoulos and director Marios Theoharous, comes to show us the way to love for all, self-respect, forgiveness and acceptance. 
In Greek  
Duration: 45'
Tickets: €8
A soundwalk around and across Heroes' Square. In Greek & English
A theatrical staging of an interview given by Dinos Christianopoulos. In Greek.
A tribute to Albert Camus by Vivliotropio. In Greek
Warning! The basket time limit is about to expire!
estimated time left:
00:00
Time limit has expired. Please, put item(s) in to basket again.
---