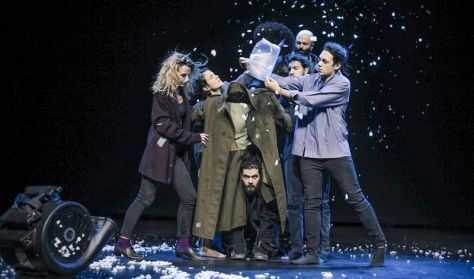 13
Ο Τυχερός Στρατιώτης
The Lucky Soldier, THOC 018
Nincs aktuális előadás
Ön egy múltbeli eseményre keresett rá. Kérjük, válogasson aktuális kínálatunkból a Jegy.hu keresőjében!
Last event date: Saturday, December 22 2018 6:00PM
And they asked themselves: Where do people go when they leave?

Remaining firm on its tradition of presenting on stage masterpieces of literature, Cyprus Theatre Organisation presents to children and young audience the Russian folk tale The Lucky Soldier.

The new production of Skini 018 is drawn from the great literature of Russian writers, who, with an ultimate respect on children's psyche and perception, gave an excellent literary material for creation and cultivation. All of the things that talk about the truths of life, happiness, failure, knowledge, love, coexistence, wealth and poverty, beginning and end of life, synthesized the materials of the unique story of the Lucky Soldier, which speaks allegorically about the circle of human life.

Is there a better way to prepare your child for the big questions of life than poetry, literature and theatre? Xenia Kalogeropoulou, this great woman of Greek theatre who has been marking the Children's Theatre in Greece for decades, knows very well the answer. With her collaborator, a distinguished director Thomas Moschopoulos, they transformed the fairy tale of the Lucky Soldier to a deep and imaginative play for children and adults. During the performance, the poetry of the play is highlighted through the special look of the director and primary school teacher, Georgia Mavragani, which uses the primary elements of drama games and reveals them to children. Companions to this adventure are six talented actors, who tell artfully the charming and full of meanings story.

-There was a Russian soldier
-Who was walking, walking, walking.
- It was hard, in the mud, in the snow, in the cold.
-He didn't care although. Why? Because he was returning home.
- After ten long years of war, finally peace has come. He returns.
- To his mother.

Adaptation-Direction-Music Compilation: Georgia Mavragani
Set – Costumes: Artemis Flessa
Movement: Alexia Nikolaou
Lightning Designer: Georgios Koukoumas
Artistic collaborator: Nazik Aidinian
Assistant to Director: Fanis Athanasiades
Cast: Marina Argiridou, Markos Kallis, Panayiotis Larkou, Nikos Manesis, Yorgos Onisiforou, Tzortzina Tatsi

The performance is recommended to children above the age of 9.

The performance has Turkish and English surtitles

Tickets: € 6
Part of Limassol Art Walks.
Α multi-awarded film screening (2019, 115') I Short presentations and discussion will follow.
Greek Theatre with English and Turkish surtitles (18+)
Warning! The basket time limit is about to expire!
estimated time left:
00:00
Time limit has expired. Please, put item(s) in to basket again.
---