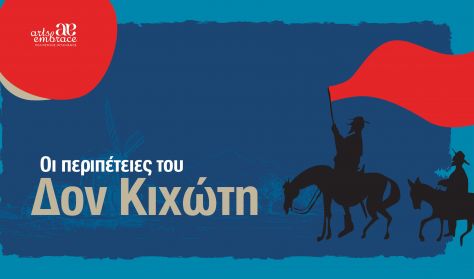 Οι Περιπέτειες του Δον Κιχώτη - ΑΝΑΒΛΗΘΗΚΕ
Inspired from Miguel de Cervantes' Don Quixote novel, and Georg Philipp Telemann's Suite for string orchestra and harpsichord, the interactive music-dance performance is staged by Arts Embrace. A contemporary gaze is cast upon the baroque play, using narration as a way to approach the yound audience while relaying the story through contemporary dance and novel styles and methods of creatively engaging the audience. 
Text adaptation: Magdalena Zera 
Narration: Lena Kassiou 
Choreography/dance: Vicky Kalla, Panagiotis Tofi
Also featuring: Andri Hadjiandreou, Costas Demirtzoglou, Vicky Hadiandreou, Nikolas Efthymiou and Doros Zisimou under the guidance of musician/instructor Natasa Hadjiandreou. 
Duration: 50'
TicketS: €12 / 6