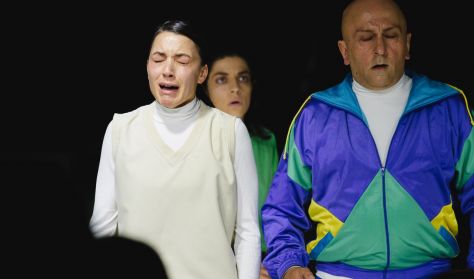 2
Picture Perfect i SRSLYyours Ensemble
9 & 10 tue - wed, Direction: Achim Wieland, On stage
Nincs aktuális előadás
Ön egy múltbeli eseményre keresett rá. Kérjük, válogasson aktuális kínálatunkból a Jegy.hu keresőjében!
Last event date: Wednesday, November 10 2021 8:30PM
>> 5 additional performances in Cyprus
>> With award-winning actor Marios Ioannou

★★★★
"A sterile, awkward, and uncomfortable sense of existence impeccably conveyed through the actors' movement and language."

"An introduction to a hybrid experience of theatre, entwined with technology and the uncomfortable reality that we are, and will perhaps forever, be attached to, not only our devices, but in our minds and in the way we go about our every day life... ...A theatre performance that could be a symbol of things to come."

Melissa Hekkers, Cyprus Mail

Date / Place

Artos House, 64 Agion Omologiton, Nicosia
Premiere & Performances:
Saturday, Nov 6th, 20:30
Sunday, Nov 7th, 2 performances: 20:30 & 16:30 (Matinée)

Rialto Theatre, Heroes Square, Limassol
Tuesday, Nov 9th, 20:30
Wednesday, Nov 10th, 20:30

The Performance
Meet Lea, Max and Mia, the protagonists of "Picture Perfect"
(Marios Ioannou, Elena Kallinikou, Marina Makris).

Strangely detached from themselves and others, the 3 players are engaged in a curious activity. They reenact iconic images from a large photographic archive as a way to understand their presence and connection to the world.

The award-winning* Ensemble SRSLYyours challenges the theatrical experience, connecting 3 protagonists, 1 virtual butler and the audience in one single group-chat for stage. While the audience is following the performance partly live, partly along an image-/text-based script on their digital devices, fragments of a broken history unfold: the sound of a bird, the Kardashians, Hiroshima, a drowned boy…

Navigating through this digital wasteland – and gradually engaging their voice, body, breath and tears – the performers discover a potential loophole to rise from the "techno-scientific" obsession of simulated imagery toward rediscovering a human experience.

In English. With excerpts from Wagner's «Tristan and Isolde».

*National Award 2019/MilanOff, "Grand Prix" Stockholm 2020/Stoff, "Best Theatre
Performance on Berlin Stages" 2017/Zitty, Berlinale Issue.

About the Ensemble / SRSLYyours*:
SRSLYyours is an international group of performers, dramaturges, researchers and visual artists based in Cyprus, Switzerland, Sweden, Greece and Germany (Artistic Directors: Achim Wieland and Marios Ioannou).

We understand theater as an incentive for social change –perhaps a political one. We embrace cross-genre and participatory formats and believe the stage to be the perfect place for people to meet and exchange ideas in the most essential way avoiding conventional narratives and ready-made truths. Dramaturgy, research, direction, writing and visual means are equal components which inform each other in fluid processes and within non-hierarchal structures. We like many cooks in the kitchen and have good reason to be perfectionists and dreamers. Seriously.

Credits:
Direction / Dramaturgy: Achim Wieland
Co-Dramaturgy: Marios Ioannou
Performers: Marios Ioannou, Elena Kallinikou, Marina Makris
Text: Achim Wieland, Marios Ioannou (with the support of participating performers and collaborators).
Movement: Michalis Aristidou
Prologue / Voice: Alexia Paraskevas
Interactivity Support and Development: Diego Armando Aparicio
Text Support / Editor: Rania Iakovou
Sound Editing / Composition: Dimitris Savva
Light Design: Yiorgos Lazoglou
Costume / Set Design: Andreas Antoniou
Make-Up: Anna Agathokleous
Production Liaison / Interactivity: Yiangos Hadjiyiannis

Partners: Rialto Theatre, Goethe-Institut Cyprus, Artos House
Supporter: Dancehouse Limassol

Thank you: Tanzfabrik/Berlin, Barry Church-Woods (Civil Disobedience), Sakari Laurila.

Tickets:
Limited Seating (Pre-Booking Required)
EUR 15 (Reduced EUR 12)
Artos House / Nicosia
Ticket Reservations at: 99517910
Rialto Theatre / Limassol
Ticket Office: 77777745, www.rialto.com.cy

Audience Notification:
> To be able to attend the performance, a personal smart phone is required for each audience member. The smart phone is only for personal use and will be functioning as a reading/viewing device in a group chat for the duration of the performance only.

> The performance will be partly followed on a smartphone using the Whatsapp application. We ask the audience members to bring their smartphones charged and to download the application BEFORE arrival at the theater. Further instructions will be given before the event so the audience is kindly requested to arrive at the theatre 30 min before the start of the performance.

> The performances at Rialto Theatre will be recorded.
Warning! The basket time limit is about to expire!
estimated time left:
00:00
Time limit has expired. Please, put item(s) in to basket again.
---