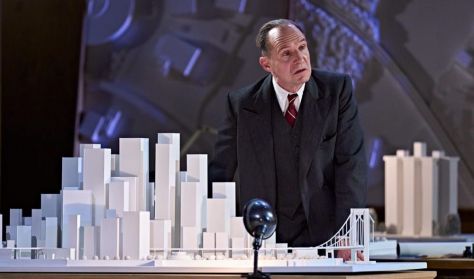 22
Straight Line Crazy/NT Live
A Bridge Theatre production
Nincs aktuális előadás
Ön egy múltbeli eseményre keresett rá. Kérjük, válogasson aktuális kínálatunkból a Jegy.hu keresőjében!
Last event date: Saturday, December 03 2022 7:00PM
Ralph Fiennes stars in David Hare's blazing account of the life of a man whose iron will expose the weakness of democracy in the face of charismatic conviction.

For forty uninterrupted years, Robert Moses was the most powerful man in New York. Though never elected to office, he manipulated those who were through a mix of guile, charm, and intimidation.

Motivated at first by a determination to improve the lives of New York City's workers, he created new parks, new bridges, and 627 miles of the expressway to connect the people to the great outdoors. But in the 1950s, groups of citizens at the grassroots began to organize against his schemes and against the motor car, campaigning for a very different idea of what a city was and for what it should be.

"It's a fascinating true story, and an intriguing parable about the nature of power and democracy" – Time Out
"What I love about this subject… Is that I'm not giving a handle to the audience, saying: this is the correct way to look at Robert Moses. I hope you go out arguing about him." – David Hare for The Daily Telegraph.
"Ralph Fiennes enthralls as the man who shaped New York"

Reviews:
THE GUARDIAN ★★★★★
THE OBSERVER ★★★★
THE SUNDAY TIMES ★★★★
THE DAILY MAIL ★★★★

With Greek and English subtitles | Duration: 180'|
Media Sponsors: Cyprus Mail, RIK, KANALI 6

Rialto Theatre, Saturday, December 3rd at 19:00.
Tickets: € 12 / 8
E-tickets: www.rialto.com.cy
Box Office: 77 77 77 45 (Mon-Fri 10:00-15:00 and 1,5 hours before the performance)
Cyprus Contemporary Dance Festival 2023, 8+
Cyprus Contemporary Dance Festival 2023, 7+
Warning! The basket time limit is about to expire!
estimated time left:
00:00
Time limit has expired. Please, put item(s) in to basket again.
---