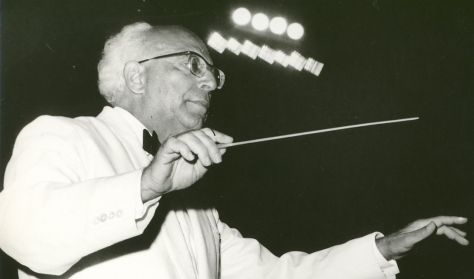 3
Συναυλία Μνήμης Σόλωνα Μιχαηλίδη
Nincs aktuális előadás
Ön egy múltbeli eseményre keresett rá. Kérjük, válogasson aktuális kínálatunkból a Jegy.hu keresőjében!
Last event date: Friday, September 13 2019 8:30PM
Prometheas String Quartet, consisting of Nikos Pittas (violin), Iraklis Mitellas (violin), Nikos Papageorgiou (viola), Miranta Papaneocleous (cello), Theodora Raftis, Elena Mouzala (piano) and the Limassol Music School Choir with Corina Vasiliou (piano), presents works of the great Cypriot composer Solon Michaelides: String Quartet, Suite for Cello and Piano, Trio for Piano, Prelude for Violin and Piano, Songs: Aria of Nausica, My Kyrenia - with piano, La flûte with a string quartet and the Choral songs: Hail Odysseus, Romiosyni.
Choir conductor: Solon Kladas
Sponsor: Medochemie
Media Sponsors: Kathimerini, CyBC
Duration: 75'
Tickets: € 12 / 8
Piano Recital with Yiannis Georgiou
Omada Pende Ι Choreography: Roula Kleovoulou Ι On Stage
Women Walk Home | Project Season Women. In Greek
Warning! The basket time limit is about to expire!
estimated time left:
00:00
Time limit has expired. Please, put item(s) in to basket again.
---