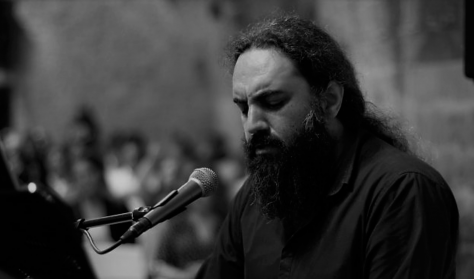 2
Θυμήσου Σώμα.../Κωνσταντίνος Καβάφης
Love poems of Constantine P. Cavafy
Nincs aktuális előadás
Ön egy múltbeli eseményre keresett rá. Kérjük, válogasson aktuális kínálatunkból a Jegy.hu keresőjében!
Last event date: Friday, October 22 2021 8:30PM
Composer Yiorgos Kalogirou sets the love poems of Constantine P. Cavafy to music, featuring piano, bassoon, the voice of a baritone and a narrator, while introducing texts of the poet and intermezzos in-between the songs. In these love poems, which make up the repertoire of songs performed, the poet intensely expresses love through the memory of the body, attributing to it a mental and spiritual dimension.

With the participation of: Evangelos Christodoulou (bassoon), Nataly Neophytou (oboe), Manolis Neophytou (piano) and Yiorgos Kalogirou (composition, performance, narration)
Duration: 70'

Tickets: €12 / 10
Discussion with novelist Zyranna Zateli in Greek I On Stage
The Cherry Orchard in Greek? I KYPRIA International Festival 2022
KYPRIA International Festival 2022 (6+)
Warning! The basket time limit is about to expire!
estimated time left:
00:00
Time limit has expired. Please, put item(s) in to basket again.
---