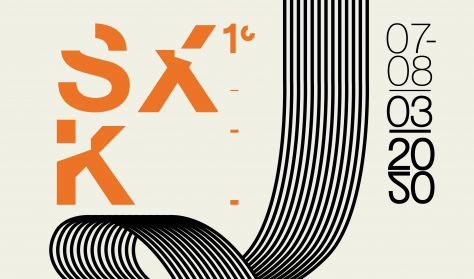 9
1o Showcase Χορογραφίας Κύπρου 2020
The preparations for the 1st Cyprus Choreography Showcase (SXK) culminate these days. The new event aspires to complete the cycle of institutions concerning to the promotion and development of Contemporary Dance in our country.
The new institution offers to the Cypriot choreographers the opportunity to present their works to artistic directors and organizers of contemporary dance festivals from abroad, and to enhance their efforts for international promotion and possible retraction of their works abroad. In this framework seven personalities from the field of contemporary dance have been invited and will attend the performances. These are the following:
From "Dance Days Chania" Festival, Sofia Falierou, Artistic Director and Chrysa Georgiou, Project Manager. From ImPulsTanz – Vienna International Dance Festival Michael Stolhofer, Festival Curator. From TROIS C-L Centre De Creation Choregraphique Luxembourg, Coraline Garnero, International Project Manager. The Athens & Epidaurus Festival will be represented by the Dance Consultant Elias Chatzigeorgiou and Onassis Cultural Centre from Christina Liata, Tour Manager & International Co-productions. Finally, from Danec Praha will attend Yvona Kreuzmannová, Founder and Director.
The 1st Showcase will feature eight contemporary dance works that have been choreographed and distinguished over the last two years, giving to dance friends a second chance to watch them. Program and hours of the performances:

Program Saturday, March 7

11:00 Fotis Nikolaou: Tamata (50')
Alone and defeated, six men embark on a quest to find their new faith. Set against a timeless and solitary background, where memory becomes a nightmare and the present a deep wound, they struggle to rediscover their body, their own truth… their light.

Concept – Choreography: Fotis Nikolaou
Music: Dimitris Spyrou, Set design: Elena Kotasvili, Alexis Vayianos, Costumes: Constantina Andreou, Lighting design: Panayiotis Manousis
Photos: Pavlos Vrionides, Amanda Protidou
Dancers - Performers: Anastasis Karachanidis, Ilias Bageorgos, Fotis Nikolaou, Giannis Economides, Alexandros Stavropoulos, Dimitris Spyrou

19:00 Ariana Markoulidou (bytheway productions): Loitering (40')
LOITERING means to stand or wait somewhere without obvious purpose.
We are waiting for something to happen.
We are waiting for something to change.
All we do is walk in anticipation.
The earth is about to explode…

Concept/Choreography: Arianna Marcoulides
Performers: Eleana Alexandrou, Arianna Marcoulides
Stage Design and Making of Set: Eva Korae, Sound Design: Panos Bartzis
Light Design: Aleksander Jotovic

20:00 Alexandra Waierstall: Venus Un/seen (Draft One) 35'
A solo that focuses on the invisible, the perceptible and the unforeseen, transforming it into states of renewal, courage and transcendence.

Concept/Choreography: Alexandra Waierstall
Performer: Karolina Szymura
Sound: HAUSCHKA, Artistic collaborator: Horst Weierstall
Lighting design: Alexandra Waierstall, Giorgos Lazoglou

21:00 Andromachi Demetriadou Lindahl (Asomates Dynamis): Mountain (extract) (20')
Α dance work about stamina, compassion, spiritual quest.
An intimate voyage of personal elevation that signifies both the quest for meaning and the human desire to encounter oneself and the other…

Concept / Choreographic Direction: Andromachi Dimitriadou Lindahl
Music: Konstantina Polychronopoulou, Set / Costumes: Elena Katsouri
Light Design: Giorgos Lazoglou
Dance / Co- creation: Loizos Constantinou, Fouli Stylianidou, Ivi Hatzivasiliou, Kyriakos Ierodiakonou

Program Sunday March 8

11:00 Panagiotis Tofi: Through me, THEM— (20')
A choreographic piece that has been created having as point of departure the movement response of women, submitted through one-minute videos after an open call. Participants were asked to share their unique, personal experience regarding male dominance, loss and isolation, through bodily movement.

Concept/Research/Choreography/Performance: Panayiotis Tofi
Music Composition: Jakub Otčenášek (cello), Antonis Antoniou (electronic music)
Voice/Narration: Panayiotis Tofi, Costume/Stage Design: Rea Olympiou - George Yiannou, Lighting Design: Panagiotis Manousis, Photography: Theodora Iacovou (promotion), Pavlos Vrionides (performance),
Camera/Editing: Suzana Phialas

11:40 Arianna Economou (Echo arts): Sketching a dance-The World of Cyprus with Women (40')
This choreographic research project draws inspiration from the sketch "THE WORLD OF WOMEN" by Adamantios Diamantis (1900 - 1994) which the painter never got to develop into the desired monumental work in oils, as he had successfully done with his "THE WORLD OF CYPRUS" that focuses on the men of the island.

Direction and Choreography: Arianna Economou
Music Coordination and Conducting: Vasiliki Anastasiou, Music Supervision and Arrangements: Andreas Papapetrou, Dramaturgy Advisor: Alexandra Waierstall
Creative Collaborators / Dancers: Arianna Marcoulides, Georgia Constantinou Clark, Konstantina Skaliontas, Viky Kalla
Choir: Vasiliki Anastasiou, Myrto Aristidou, Anastasia Prokopi- Taki, Maria Afxenti, Elina Josephidou, Theofano Papachristou, Christina Papamichael
Stage and Costume Design: Chara Savvidou, Visual and Video Artist: Yiannos Economou, Lighting Design and Stage Manager: George Lazoglou, Production Manager: Pantelis Georgiou

19:00 Elena Antoniou: WISH (51')
Elena Antoniou invades Rialto Theatre with the synergy of five other female artists. Shortly after her performances at Athens Festival and Onassis Stegi in Greece, she is back to questioning time as a construct, freedom as a convention and individuality as a prerequisite. She renegotiates the personal boundaries and highlights wish-ing, as the only way out of any subjective restraint. "The sole responsibility of the beholder is that of his infinite freedom".

Conceived and choreographed by Elena Antoniou in collaboration with the artists Elena Agathokleous, Eleana Alexandrou, Elena Gavriel, Elena Kallinikou, Arianna Marcoulides. Music/Sound Design: Stavros Gasparatos, Art Direction / Costumes: Christos Kyriakides Dramaturgy: Odysseas I. Konstantinou, Light Design: Vasilis Petinaris, Makeup Artist Andrea Costi, Photo: Stelios Kallinikou, Assistant Composer: Georgios Mizithras Graphics: Despina Rangou

20:15 Roula Kleovoulou (Chorotheatro Omada Pente): humanland (21')
I heard telephones, opera house, favourite melodies
I saw boys, toys, electric irons and T.V.'s
My brain hurt like a warehouse
It had no room to spare
I had to cram so many things
To store everything in there…
David Bowie "5 years"

Choreography: Roula Kleovoulou, Dancers: Arianna Markoulides and Milena Ugren Koulas
Dramaturgy: Chloe Melidou, Tango coaching: Aggeliki Agathokleous
Music: Original soundtrack by Chris Charalambides (www.soundscape-studios.com)
Costumes: Arianna Markoulides, Make-up: Panayiotis Hadjiflourentzou
Lighting design: Panayiotis Manousis, Photo credit: Pavlos Vrionidis

Organizers: The Cultural Services of the Ministry of Education, Culture, Sport and Youth, and Rialto Theatre

Media Sponsors: Fileleftheros Newspaper, Going Out, Active 107.4, 102.5, CYBC
Hospitality Sponsor: Curium Palace Hotel
Supporter by: Limassol Municipality, Dance House Lemesos, Limassol Tourist Board Lemesos Newspaper, Russian Wave Radio, Vestnik Kipra

Saturday 7 and Sunday 8 March @ 11.00 & 19:00
Tickets: €10 (daily) € 15 (for 2 days) Click here to buy the season ticket 
Click here for the Facebook page of the 1st Cyprus Choreography Showcase