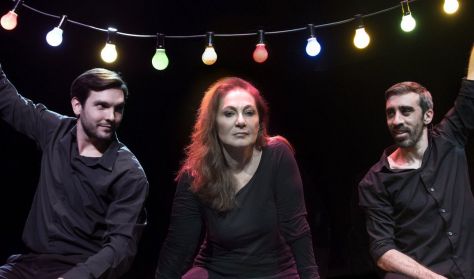 4
Αρίστος/Γιώργος Παπαγεωργίου
Greek theatre play more
Nincs aktuális előadás
Ön egy múltbeli eseményre keresett rá. Kérjük, válogasson aktuális kínálatunkból a Jegy.hu keresőjében!
Last event date: Friday, May 06 2022 8:30PM
A critically acclaimed play based on the famous novel by Thomas Korovinis Wall of Death.

Nine characters connected to Aristidis Pagkratidis, the notorious Greek serial killer known as the "Ogre of Seikh Sou", illustrate his profile. His friend from the neighbourhood, his mother's chambermaid, the porter at the harbour, the kiosk keeper - a paramilitary traitor, a democratic gendarme, a conservative bourgeois, his boss at the fair, as well as trans Lolo and a pop singer - his two lovers, all come alive on stage incarnated by the three main actors. 

Cast:
Filareti Komninou, Yiannis Leakos, Ioannis Athanasopoulos. 

Musician on stage: Klitos Kyriakidis
Directed by: Yiorgos Papageorgiou 
Adapted by: Theodora Kapralou 
Music: Yiorgos Dousos 

*The play will also be staged at THOC on 7, 8 May. 

Tickets: €20 / 15 
Annual concert Tatiana Stupak School of Music
Warning! The basket time limit is about to expire!
estimated time left:
00:00
Time limit has expired. Please, put item(s) in to basket again.
---